The Obama administration is launching an effort to reform the slow-motion train wreck that is the US Patent and Trademark Office.
"We've got the greatest inventors in the world, and it's time we give them the help they need to bring this country where it needs to be," said Austan Goolsbee, chairman of the Obama administration's Council of Economic Advisers in a White House White Board video on Monday.
Goolsbee says that the USPTO takes far too long to review patents, and makes too many mistakes. He notes that it took Alexander Graham Bell only a month to get a patent for the telephone back in 1876, and that in 1974 the "main patent" for the cell phone was issued in two years.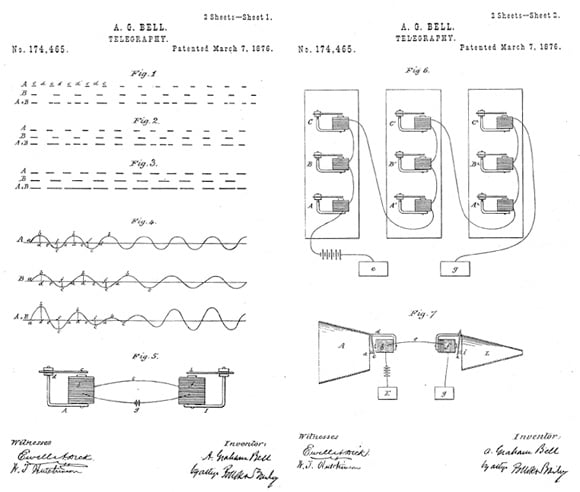 Alexander Graham Bell's 1876 telephone patent was a mere six pages long, including two illustrations
"But today," Goolsbee says, "we've had the number of patent applications grow enormously – they've almost tripled in the last 20 years. And now we've got a massive backlog of more than 700,000 patents who haven't even had their patent applications opened. The average patent in 2011 takes almost three years to get – and thousands of them take many more years than that."
That delay is unconscionable, according to Goolsbee, and is a drag on American business. "To put that is some context, if you look at the failure rate of new businesses, in that kind of time frame more than one-third of them has ceased to exist."
Goolsbee cites a survey of venture capital–backed startups which found that three-quarters of them said that having patent protection was "critical" for receiving financing.
"One top of that," he says, "with so many applications and so few resources, mistakes can get through. Actually, a patent for a crustless peanut butter and jelly sandwich got through. Who knew that my mom should have been paying royalties back in the day?"
To ameliorate this slow and mistake-filled process, the Obama administration is instituting a patent-reform plan that Goolsbee says will "cut the average delay by more than 40 per cent."
The administration also plans to introduce a "fast-track" process through which inventors can get their "most important" patents approved within a year – although Goolsbee provided no details as to who will decide which patent applications will be allowed to jump into that express lane.
Finally, the USPTO will institute "a patent-review process after patents are granted to try to quickly and fairly resolve any patent disputes without getting embroiled in years of legal limbo," Goolsbee says.
In these days of fiscal fear-mongering, when any new idea is quickly attacked by deficit hawks if it smacks of costing even a dime, Goolsbee is quick to point out that there's money to support a patent-process overhaul.
"The good news is," he says, "the patent office doesn't even cost money – it raises money. But funds have been diverted away from the patent office itself to other things. We've got to let the patent office keep its own revenues so that they can address the needs that American inventors and businesses have so they can grow jobs here in this country."
Despite crticism that his administration shouldn't meddle in the tech sector – including commentary by some at The Reg – Obama is actively seeking input from titans of the tech industry about how the executive branch might either help or get out of the way of business, as witnessed by a recent confab with Steve Jobs, Mark Zuckerberg, Larry Ellison, Eric Schmidt, and others.
His administration has also set up the Startup America Partnership with support from Intel, IBM, HP, Google, and Facebook, and chaired by AOL-cofounder and entrepreneur-supporter Steve Case, to provide help to small businesses looking to take the next step.
Although good – and bad – arguments can be made for and against government attempts at supporting inventors and entrepreneurs, we heartily welcome any sincere, well-crafted, and fiscally responsible attempt to drain the swamp that is the US Patent and Trademark Office. ®