Crystal Acoustics PicoHD5.1
Compact, media savvy player for under-equipped tellies
---
Review Most TVs now have memory card slots and USB ports for showing digital photos or playing music and video from your own collection. The Crystal Acoustics PicoHD5.1 media player provides the same features for just about any TV, especially HD-ready ones. If your set lacks the sockets, or doesn't play the formats you want, you can just add one of these £40 gizmos.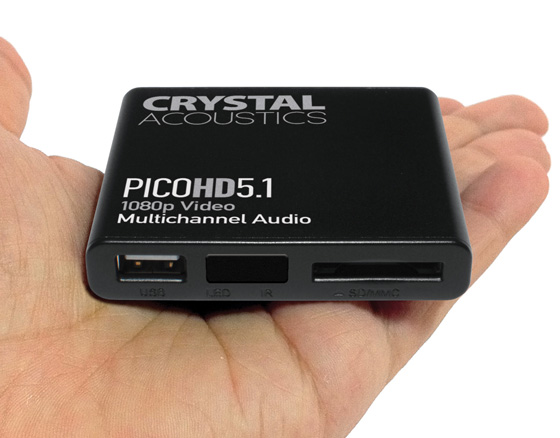 "Crystal Acoustics' PicoHD5.1 is certainly a handy piece of kit
Housed in aluminium and barely larger than a typical card reader, it sports a full sized HDMI socket. It also outputs basic composite video, analogue stereo and, unusually, coaxial digital audio through one shared 3.5mm mini-jack, accessed with a supplied adapter.
Its smallness makes it easy to place around the TV and convenient to take on trips. If there's a TV where you are staying, you can watch your media on something larger than a laptop.
The USB port accepts hard disk drives and flash memory formatted in FAT or NTFS (helpful for larger high-def video files). It's also used to instal firmware updates. You can keep a USB drive and memory card connected and switch between them. Bear in mind it's not a networkable device, so there's no internet or LAN connection.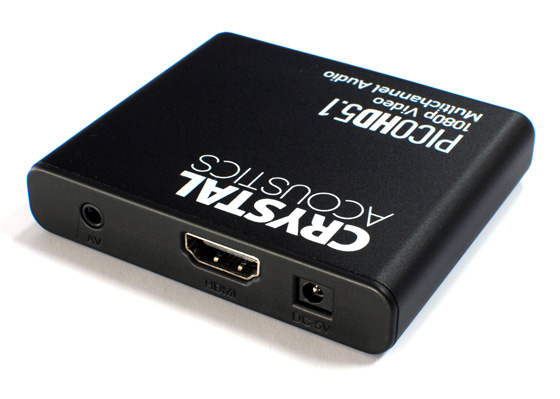 A full sized HDMI output and an AV jack that also carries digital 5.1 surround sound
The player outputs video over HDMI at up to 1080p resolution. The list of video formats supported is exhaustive – except ISO disk images, which would need to be extracted into their constituent parts – and it doesn't deal with copy protected content you may have bought.