Managers at Germ chem firm Evonik are putting their mobile phones into biscuit tins during important meetings, but testing by El Reg has revealed critical flaws in the Faraday-cage qualities of popular brands.
Concerns about industrial espionage have driven the German chemical company Evonik to equip every meeting room with a biscuit tin, the company has confirmed to the AFP press agency. For security reasons staff are required to place mobile phones into the tin before sensitive issues are discussed.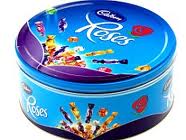 Good for Tangy Orange Cremes
– rubbish for blocking mobile signals...
The idea is that the tin will work as a Faraday cage, blocking transmissions which the company fear can be triggered even when the phone is off, though our testing shows many tins to be entirely unsuited to such a role.
A phone placed inside a McVitie's Biscuit Assortment tin, for example, can make and receive calls (and thus transmit corporate secrets) without problem. The same thing applies to a Cadbury's Roses tin, but Jacob's Savoury Biscuit Selection come in a container made of sterner stuff, being able to block both 3G and 2G transmissions entirely.
Most of us would just turn the phones off, and such a policy has a great deal going for it even if security isn't in question: meetings run better when no one is distracted. But Evonik is concerned that phones can transmit secrets even after they've been switched off.
This is a surprisingly common belief, and hard to disprove. It's true that no one alive today has read the entire GSM specification (it's just too long), but running a radio (necessary to hear the secret "listen" command) takes power, and power consumption is something all mobile-phone engineers watch very carefully.
Having said that, handsets can be replaced with copies that don't ever switch off, and there are one or two smartphone apps which can reprogram the "off" switch to work as a "standby". So perhaps Evonik isn't being as dim as it appears to be – just as long as it has checked its tins, and knows that you can always rely on a Jacob's Cracker at a pinch. ®