This article is more than 1 year old
Audio Technica ANC7b noise-cancelling headphones
Journey into sound
Geek Treat of the Week You don't have to be a geek to have a fondness for a gadget that just 'works'. Perhaps a mobile phone that does bugger all than manage calls but gets a signal wherever you are. How about a simple pair of headphones? From a technical standpoint, perhaps not so simple in the case of Audio Technica's ATH-ANC7b cans. However, just one switch activates the QuietPoint noise-cancelling signal processing, and the roaring silence is upon you. Yup, that's it.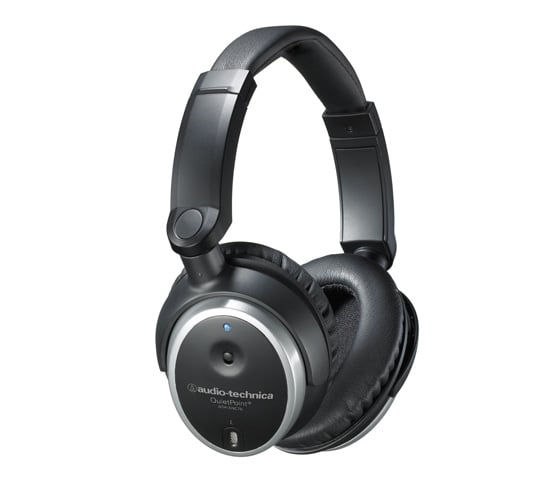 Silent partner: Audio Technica's ATH-ANC7b
Designed with the traveller in mind, a hardened zipper pouch is provided – moulded to fit the headphones snugly – plus a pocket inside for the various gold plated connectors. You get two leads of 1m and 1.6m with 3.5mm jacks at each end that plug into the side of left earpiece. Also included are a double jack airline adapter and a 1/4in stereo jack converter.
The closed cup padded earpieces are hinged to allow good isolating contact against the side of the head. The cup pressure from the covered sprung steel adjustable headband is just enough without being uncomfortable. Another joint on this arrangement enables each earpiece to twist perpendicular to the headband to fit into the case.
Not having a rechargeable battery pack is one of the major plus points of the Audio Technica ATH-ANC7b headphones. All you need is one AAA battery and you're good to go for about 40hours. I'm sure I've used them for getting on that long now and they're still going strong. Still, when the battery does die, just twist the outer case of the right cup and drop another one in – worrying about packing a charger is not an issue. Also, if they do die, you can still use them in passive mode.
A blue light above the only switch on the headphones lets you know they're on, but it's immediately apparent when you're wearing them. When active, the somewhat lacklustre and bass heavy passive mode, gives way to a well-defined soundstage with excellent stereo separation. Everything seems to know its place, with a firm bass response, punchy middle and a crisp top-end delivering top notch sound reproduction in the most challenging of environments.