Review The Aspire 5755G is a fairly winsome system, combining sober, executive-class slate grey with a glossy black lid adding a touch of glamour. When it's closed it's a good looking slice of plastic, measuring just 35mm thick.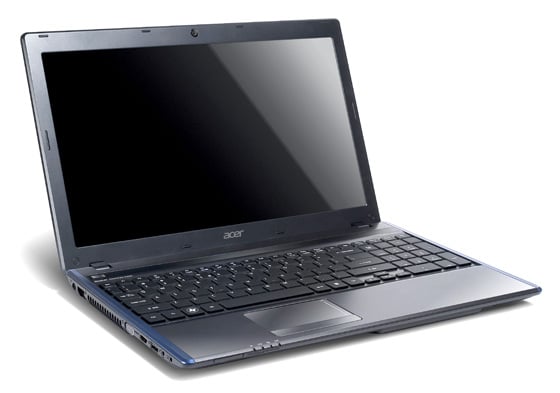 Acer's Aspire 5755G: widescreen but, alas, not quite full HD
The 16:9, 15.6in screen has a resolution of 1366 x 768, which feels a tad low in terms of pixel density - compare it to the 16:10 panel of the 15in MacBook Pro, which offers a 1440 x 900 resolution and Windows can feel a little chunky. It also means there's no support for Full HD, but that can be forgiven, as the 5755G opts for a utilitarian dual-layer DVD writer as opposed to a Blu-ray drive. Internal storage is provided by a capacious 750GB disk.
The monitor's resolution is more or less its only failing, though. Brightness falls off slightly as you move off-centre but horizontal viewing angles are broadly good. At full brightness it produces plenty of light - more than enough for you to be able to comfortably turn it down to eke out a little more battery life. As ever, the glossy screen disappoints.
The keyboard has some weird quirks. It's generally nicely laid out, solid and, as ever, the number pad on the right hand side is appreciated. However, both the left-hand shift key and Enter key have other keys abutting them - backslash on the case of the shift key and the tilde and hash key on the enter key.
The left hand shift key is a particular annoyance, particularly if you're used to striking it with your left-hand pinky finger - with another key nestled right up next to it it takes a bit of training before you learn to tap further towards the left to avoid leaving backslashes at the beginning of all your sentences.