This article is more than 1 year old
Chic USB drive leads double life as personal vibrator
Très élégant, oui, mais très puissant
A San Francisco design firm has produced one of the most provocative human-machine interfaces we've seen in some time: a USB drive that doubles as a personal vibrator.
"In a world where high technology and luxury design seem to touch every corner of our lives, the most intimate experiences should be no exception," Crave declares on its website.
And so was born the Duet, a USB-rechargeable, dual-motor vibrator that comes in 8GB and 16GB capacities. Duets without storage are also available.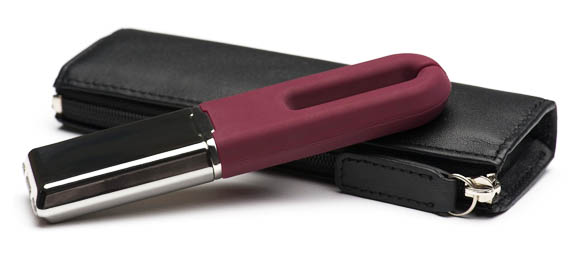 The Duet and its leather pouch: discreet, sophisticated, and oh-so-practical
The inspiration for the pleasure-producing Duet was simple, according to designer Ti Chang. "For something that's so sensual and wonderful, I've always wondered why products in this space are so bad," she says.
"The forms are really strange to me. I don't understand the rabbits, the dolphins. The materials are often cheap and the products poorly made."
Such crude, loud, and sleazy personal invigorators inspired Chang to change her design focus from her previous work at Trek Bicycle and Goody. "About a year and a half ago," she says, "I decided to focus full-time on creating better sex toys."
The Duet is her company's first foray into this field – and, we can only guess, the world's first USB flash-drive vibrator. Yes, we know of USB-rechargable vibes such as the Lelo Mia, but we're not aware of any that you can use not only for personal erotic purposes, but also to store your personal collection of erotic digital materials.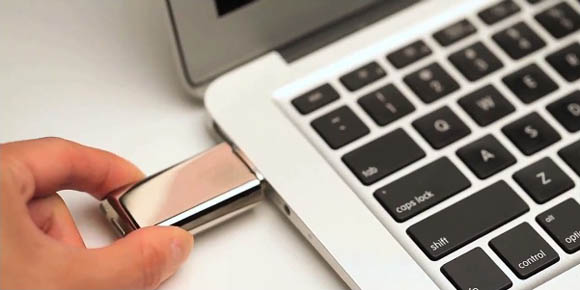 The perfect companion to your MacBook Air during those lonely hotel nights in faraway climes
Chang says that prospective customers told her they wanted their vibrators to be quiet, so the Duet is. "For others," she says, "shower time is very important, because it's their only alone time, so we made sure that our product is waterproof – even submergeable down to 100 feet."
We'll allow you to pause a moment to ponder that usage model.
Currently, Crave is seeking investors through the "international funding and ordering platform for product design" website CKIE.
Slip them $125, and you'll get an entry-level 8GB Duet. Other offers range upwards to the "Share the Love" gift set, which includes a personalized engraved 16GB Duet Lux and three storageless Duets "for your nearest and dearest!", all for a mere $450 – the perfect icebreaker for that special late-summer party, hmm?
By supporting Crave and its pioneering flash-drive-cum-vibrator [No pun intended. – Ed], you'll experience more than the obvious thrills it will produce; you'll also have the rush of participating in a world-changing endeavor. "The way I see it," says Chang, "sexually satisfied women means happier relationships, which means happier couples, marriages, and children, and eventually ... peace on earth.
"And I'm only half joking." ®