This article is more than 1 year old
AMD's new CEO bobs, weaves, says 'big' and 'fast' are good
Read reveals little in first day on the job
Rory Read spent his first morning as CEO of AMD – of any company, for that matter – performing a very CEO-like duty: dodging and deflecting questions about the company he now leads.
In a conference call with analysts and reporters shortly after AMD announced his appointment on Thursday morning, Read was more intent on expressing his "excitement" about the "honor" and "privilege" of being chosen to helm an "exploring, adventuring" AMD than he was about providing any hint of what he planned to do as CEO.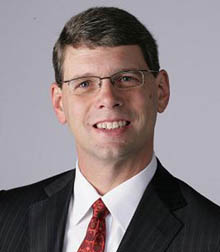 Rory Read
How does AMD plan to prioritize its server processors vis-a-vis its PC and mobile chips, he was asked. "It's really around three or four key concepts. One: execution excellence. ... And then the culture – I'm super-impressed with the culture here at AMD. ... And in terms of strategy, it's always about balance."
Will AMD move beyond x86 into ARM-based processors? "I think what you're going to see is that the work that we're doing will continue to bend down into lower power bands, and also be able to introduce those new technologies that allow us to compete and win in that market space as it emerges."
How would Windows 8 being ported to ARM affect the microprocessor industry? "I think it's a very interesting time in the industry, from the impact of the form factor of tablets, the kind of operating system trends that we see. ... I think any advancement in technology on the software side that introduces solutions, that makes our customers more productive and more successful, means more opportunity for AMD."
What will AMD's tablet strategy be? "I think it's a little early for me to tackle that one."
When floated a softball about what he thought were the strengths and weaknesses of AMD's product lines, Read waxed rhapsodically about his new company being a "leading innovator", singling out for praise discrete graphics, "the Bulldozer technology around the cloud," and "clearly the work around Fusion," a technology that Read claims is "just scratching the surface" of market success.
"This company has a long, 42-year track record of going about business the right way, and really looking at innovation as an opportunity, embracing change," he said, skimming over more than a few periods in AMD's history when "the right way" didn't include profitability.
When pressed that he hadn't mentioned anything about AMD that needed to be improved, Read again took a course that might be expected from a man on his first day on the job. "Well, I think it's always great to go faster," he said.
"Faster is always better. Bigger is better. Y'know, those are always good things," Read emphasized. "We need to create a sense of urgency and even more passion around 'every single day matters'. I think that's always a good thing. You can't fault any company for wanting to go faster, and I think we should go faster."
When and how Read gets AMD up to speed is up to him, according to board chairman Bruce Clafin, also on the call. "The board has imposed no restrictions whatsoever," he said. "We've asked [Read] to do a few basic things: execute against the stratgies that are in place, expand margins and return and build strong positions whle seizing new opportunities that are facing us.
"That's it," Clafin summarized. "And beyond that, it's really up to Rory and his team to decide how to best execute those."
Back in January, when giving Read's predecessor Dirk Meyer the boot, Claflin was more specific about the challenge Read now faces. "The Board believes we have the opportunity to create increased shareholder value over time," he said. "This will require the company to have significant growth, establish market leadership and generate superior financial returns."
Claflin spoke for the board when he said: "We believe a change in leadership at this time will accelerate the company's ability to accomplish these objectives."
That change has now been made. Read brings to AMD an address book well-stocked with OEM contacts he made during his tenure as president and COO of Lenovo. We'll now see if he can leverage those into cold, hard success – he's already proven that he can handle the warm, soft platitudinous part of the CEO's role. ®