Antique Code Show I know you played this. Admit it, darn you! Or at least you coveted it from afar as I did, watching my little sister Chloe play it and waiting till she fell asleep to sneak into her room to worship it's vivid iridescent rays - or as close as you can get with just 4096 colors!
Rainbow Islands is one of the most successful conversions from arcade to console, in my humble opinion. It's a simple cute platformer, not definitive of any genre or ground- breaking on any way, but totally addictive.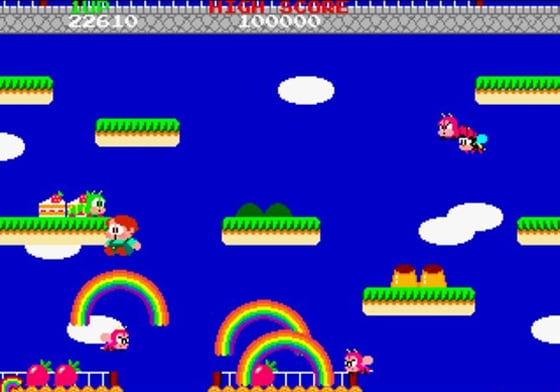 Takes the cake
I will always remember reaching the seventh island and getting killed in literally three seconds.
The idea behind Rainbow Islands is simple. Each level is an island which is slowly sinking into the ocean. By jumping on platforms and solid rainbows, I need to get to the top of the screen before I drown.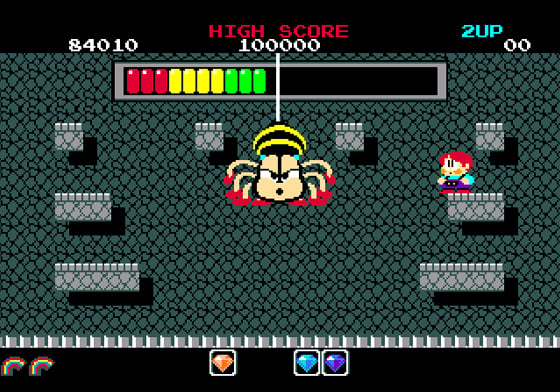 Friendly neighbourhood spider, man
Why do I remember Rainbow Islands so fondly, and why was it so popular?
Rainbow Islands was my friend, the geeky pal who talks too much and always has something new to show you and is annoying, distracting and demanding yet entertaining all at the same time.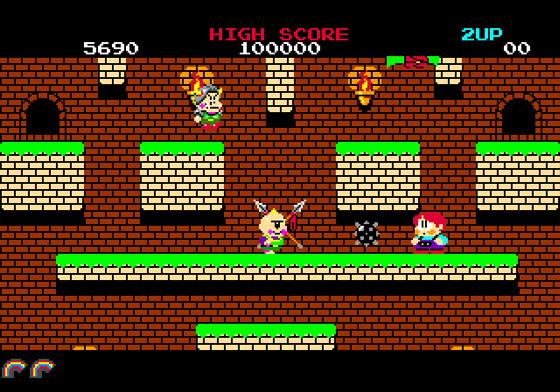 Brown among the dead men
A brash kaleidoscope of colour, populated with heaps of eye-bleedingly bright creatures, food and objects, Rainbow Islands lived up to its name and then some. You control a cute character of distinctly Mario-meets-Manga appearance that is attacked by equally cute baddies - caterpillars, bees and bugs, but also trucks and helicopters. DOUBLE CUTE FTW!