The bevy of boffins over at the occasionally madcap Pentagon agency DARPA have chosen a former astronaut to lead their highly ambitious drive to get the first manned interstellar spaceship flying out of the solar system by 2111.
The so-called 100-Year Starship project will be headed up by Dr Mae Jemison, the first African-American woman in space and an astronaut with NASA from 1987 to 1993, according to a letter seen by the BBC.
The wildly aspirational plan, also backed by NASA's Ames Research Centre, is starting off with baby steps. First off is the creation of an organisation that will guide the research into how exactly the interstellar bus will work, which is what Jemison will be leading.
That endeavour doesn't need to wait on the eventual billions (trillions?) it will cost to make and launch the first starship; the project has been provided with seed money of $500,000 to "develop a viable and sustainable model for persistent, long-term, private-sector investment into the myriad of disciplines needed to make interstellar space travel practicable and feasible", according to DARPA.
The agency had not responded to a request for comment at the time of publication, and has not yet announced the appointment publicly.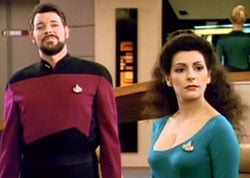 Forbearance: Dr Jemison has it
Dr Jemison, who has a degree in chemical engineering and a doctorate in medicine, was the science mission specialist on the STS-47 Spacelab-J in 1992 and logged over 190 hours in space.
As well as being a bona fide boffin, Jemison also spent time in the IT trenches, working in computer programming, among other things, before joining NASA.
She's also no stranger to the ideas behind a starship, since, as a long-time Star Trek fan, she had a bit part in one episode of Star Trek: The Next Generation.
The episode, entitled Second Chances, must surely go down as evidence of her remarkable patience and forbearance, since it featured the two most irritating TNG characters, Commander Riker and Deanna Troi, rather prominently. ®
Similar topics