Building out cloudy server and storage services as well as support the gazillion of apps running on iOS and Android devices has the cloudy server business absolutely exploding, say the box-counters at market researcher iSuppli.
In its just-released Compute Platforms (PDF) report, analysts Peter Lin and Matthew Wilkins say that there were 460,000 servers shipping in 2010 that were designed expressly for hyperscale infrastructure workloads that sit behind cloudy applications like those available from Google, Apple, and Amazon. That number presumably includes homegrown servers such as those which Google, Facebook, and Amazon build for themselves – or with the help of contract manufacturers. The number does not include any plain vanilla x86 or RISC servers that cloudy application and infrastructure services providers might happen to buy for their back-ends. iSuppli is counting cloudy boxes used by online app and service providers as well as cloudy boxes that enterprise customers might be installing as they move to the cutting edge and mimic public clouds with their internal operations.
These cloudy servers, sometimes a hybrid of rack and blade servers with all the unnecessary elements ripped out, will be the fastest-growing part of the server business in the coming years, according to iSuppli. The company believes that 647,000 cloud servers shipped last year, up 41 per cent from 2010's levels, and will grow another 35 per cent this year, to 875,000 units.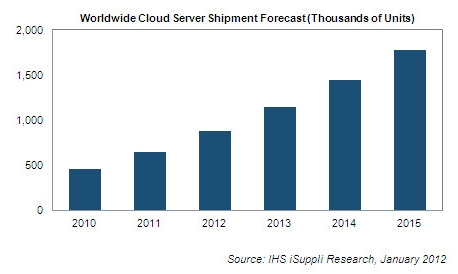 Cloudy server shipments are expanding
iSuppli's forecast calls for cloudy server shipments to grow at a compound annual growth rate of 31 per cent between 2010 and 2015, hitting 1.8 million units in 2015. This growth rate, iSuppli says, is five times faster than the overall growth of the server market worldwide, and – perhaps more significantly – will grow to account for about 15 per cent of total server shipments by 2015. If you do the math on that (which you have to since this data is inside of its for-fee report), it means iSuppli figures 9.2 million servers shipped in 2010 and is projecting that 12 million will ship in 2015. This means that over the five years the overall server market will only expand by 30.7 per cent, thus averaging 6.1 per cent per year. Cloudy server shipments over that same time will grow by an astounding factor of 3.9, according to the forecast.
What this forecast also implies is that growth for blade servers and plain vanilla rack and tower servers – which tend to be loaded up with lots of resilience and redundancy features that cloud apps don't require – will grow a lot more slowly, from 8.72 million units in 2010 to only 10.2 million units by 2015. That's only 16.7 per cent growth over those five years, which is an average growth rate of only 3.3 per cent per year.
Perhaps the most significant change in the server market is not the particular form factor or workload that will be running on top of the machines, but the source of the design and manufacturing of the machines that end user customers buy. Historically, server buyers have gone direct to the big server OEMs or their resellers, but these days – and especially with relatively low-volume, exotic, and often bespoke server designs for hyperscale data centers – companies are cutting out the tier one middlemen such as Hewlett-Packard, Dell, IBM, Fujitsu, and others. Original design manufacturers such as Quanta and Wistron are helping companies design machines and are often building them, too. ®