Aviation experts are coming up with a 60-year-old solution to a modern problem - how to create a cheap, fuel-efficient and quiet supersonic aeroplane. This is their breakthrough solution: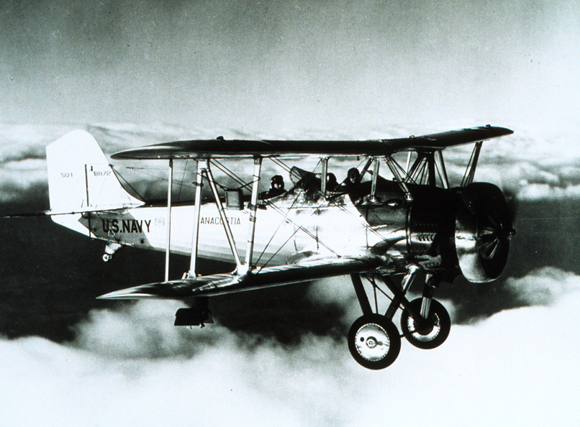 US Navy biplane in flight in December 1934
Researchers from MIT and Stanford have shown via computer modelling that a modified biplane can produce significantly less drag than a single-wing craft, improving the fuel efficiency and quietening that sonic boom. However Qiqi Wang, his MIT colleague Rui Hu and Antony Jameson of Stanford University admit that it's not the first time someone has suggested biplanes could sort out the sonic problems.
Back in the 1950s, German engineer Adolf Busemann was the first to come up with a biplane design that thwarts shockwaves at supersonic speeds. The problem with a regular single-wing aeroplane is that as the jet nears the speed of sound, air compresses in front of and behind it, and when the plane goes past Mach 1, the sudden increase in air pressure sends two shockwaves radiating out.
"The sonic boom is really the shockwaves created by the supersonic airplanes, propagated to the ground," Wang said in a canned statement. "It's like hearing gunfire. It's so annoying that supersonic jets were not allowed to fly over land."
Busemann showed that with a biplane, the configuration of the top and bottom wings would cancel out the shockwaves of each other. But because the wings create a small space for air to go through, when the biplane is still going below the speed of sound but getting faster, the wings could "choke", creating huge drag.
Wang, Hu and Jameson came up with a computer model to simulate the biplane's performance at every speed along the way, so that they could compile the results into a shape for each wing that would allow the supersonic biplane to fly at all speeds.
If the supersonic jet has smooth inner surfaces on the wings, then that widens the channel through which air can flow, and if the top edge of the top wing and the bottom edge of the lower wing is bumped out, the plane can fly faster than sound with half the drag of a single-wing aircraft like the Concorde.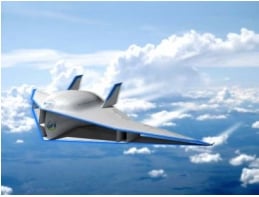 Conceptual drawing of a silent supersonic aircraft.
Credit: Institute of Fluid Science, Tohoku University
Less drag would not only get rid of the sonic boom problem, it could reduce the amount of fuel needed for each flight as well, Wang said.
His team is working on the best design for a supersonic plane, but he pointed out that there is also a team in Japan that's trying to design a biplane with moving wings, so they can change mid-flight to minimise drag.
"Now people are having more ideas on how to improve [Busemann's] design," Wang said. "This may lead to a dramatic improvement, and there may be a boom in the field in the coming years." ®