Tin can communication set to return
No strings attached
It isn't just Reg Hardware celebrating all things old school this week. A group of retro enthusiasts want to bring back the days of tin can communication, punting a modern USB version on fundraising site Kickstarter.
Monkey Wrench Design knocked up prototypes of their "tin-over-IP" technology, The Can, which takes talking back to the days of yore.
Users must press the Can to their ear to hear their friends' voices, and talk directly into the Can to transmit a clear sound. Volume can be turned up enough so that switching between ear and mouth isn't a necessity, but as the team rightly points out, where is the fun in that?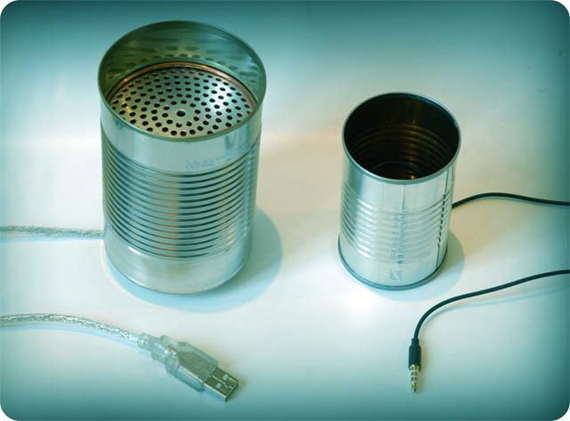 Bean there, done that...
Several models are planned. A Mini Can will come with a TRS connection for popular cellphones, while the larger Can for PC and Mac take specs up a notch.
This version is improved upon for the Can Club Commander edition, with a subtle glow that notifies a user of missed calls, while a Trump Edition sees the cans plated in 24k gold. Bling tin-g.
When asked why the team had considered such a project, they replied: "There are things in this universe that can't be explained with science or reason. Some things are just what they are and that's it. The Can Phone is one of these things."
They insist no Hollywood celebrities have been seen using one either. Must be cool, then.
The team are looking to raise a total of $30,000 (£18,600), which it hopes to do by Sunday, 27 May. As usual, backers get different rewards depending on the amount of wonga they pledge.
For further details on Monkey Wrench Design's efforts, check out The Can's Kickstarter page. ®