This article is more than 1 year old
Jeremy Hunt 'sympathetic' to Murdoch's BSkyB bid
He dismisses 'cheerleader' claims in Leveson probing
Culture Secretary Jeremy Hunt fought for his political career this morning during questioning at the Leveson Inquiry over his handling of News Corp's failed BSkyB takeover.
The beleaguered minister told the inquiry's Robert Jay QC that, while he was not a "cheerleader" for Rupert Murdoch's multinational media empire, he was "sympathetic" towards the proposed deal. The Tory minister rejected suggestions that the corporation had close links with his party.
Hunt was defending his scrutiny of the £8 billion bid by News Corp to buy the 61 per cent share of BSkyB that it didn't already own. The Culture Secretary had been tasked with overseeing the takeover soon after Cabinet colleague Vince Cable was forced to relinquish the job of approving the proposal for telling undercover reporters that he had "declared war" on Murdoch.
Hunt told the inquiry today: "I think I had a concern about the situation where we had this very important, very significant merger in my sector where I didn't think there was a particular problem with it, but the organisation concerned said they did feel they were facing a number of obstacles with it."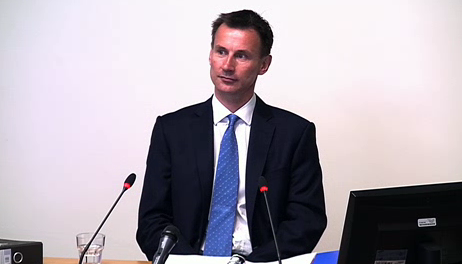 Hunt today at the inquiry
In a private note to Prime Minister David Cameron, Hunt had criticised Cable's handling of the proposed bid and warned "if we block it our media sector will suffer for years". In the same memo, the Culture Secretary likened News Corp's plans to Murdoch's decision to move his British newspaper operation to Wapping, in London, in the 1980s.
On the day Cable's "war on Murdoch" comments emerged in December 2010, Hunt sent a text to then-BSkyB chairman James Murdoch saying: "Great and congrats on Brussels. Just Ofcom to go."
In April this year, Hunt's special advisor Adam Smith - who Hunt had worked "extremely closely with" for six years - quit his post. Smith's resignation came after emails were released that showed in detail the secret talks that went on regarding News Corp's move to takeover BSkyB, which it finally ditched in July 2011 at the height of the phone-hacking scandal that engulfed Rupert Murdoch's media empire.
Messages between News Corp top flack Frédéric Michel and Smith appeared to strongly indicate that Hunt was backing the corporation's attempt to own BSkyB outright.
Hunt has dismissed such claims.
The minister also confirmed to the inquiry, which is investigating press ethics in the UK, that he only uses his personal Gmail account for ministerial business. He said: "That is the only email account I use. My departmental email gets looked at by my private office. The only email account I use is my personal one."
Such messages are now covered under the Freedom of Information legislation. ®