Thief open-sources Richard Stallman's laptop, passport, visa
Free Software firebrand's hardware liberated in Argy-bargy
---
Richard Stallman, founder of the Free Software Foundation, was distressed to find his personal belongings had been liberally distributed sans GPL - his prized laptop, wallet and passport were nicked at a conference in Argentina.
The snatch happened as fans of the Emacs author shouted over each other in an attempt to talk to him after he gave a speech at the University of Buenos Aires on Friday, reports an eyewitness and various Spanish-speaking bloggers.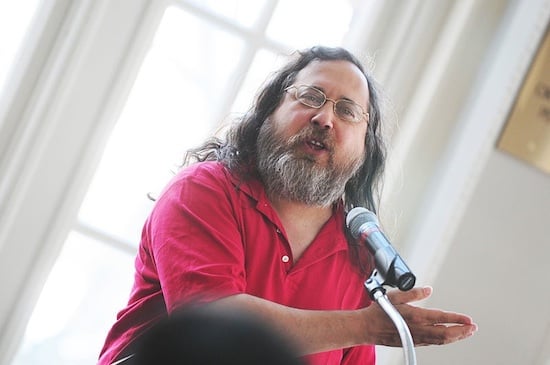 The free software firebrand in happier times
The thief, who had presumably sat through the lecture, was looking for more than a FSF-themed fridge magnet - and instead made off with Stallman's bag while the bearded GNU Public Licence (GPL) mastermind was handing out stickers, chatting and flogging merchandise.
The bag taken also contained the GCC granddaddy's medicine and money. An audience member claimed that a tearful RMS was clearly cheesed off:
I was right there, after the talk. It was a very sad moment. He was really distressed. He started yelling and punching himself in the head. He was worried because he had to be in Brazil soon, and he wouldn't make it without his passport and all.
Stallman's laptop will be even harder to replace than his passport and visa: it's a Leemote Yeeloong, which runs free software from the BIOS up and is one of the rare bits of hardware compatible with his hardline stance on software freedom. Presumably the thief will have spent the day battling a command prompt and failing to install the right codecs and packages just to watch a YouTube video.
Fans posting on the Devthought blog asked how they can set up a fund to buy him a new one. ®
Similar topics
Narrower topics