Google unveils Nexus 7 tablet, Android 4.1 and Nexus Q
Balls to Apple, Microsoft and Amazon
---
Google I/O Google has used its annual developer conference, Google I/0 2012 in San Francisco, to announce its long-expected tablet, the Nexus 7, along with a new 4.1 build of Android (codenamed Jelly Bean) and a hackable home streaming Android computer called the Nexus Q that is shaped like a ball.
Built by Asus, the Nexus 7 packs a quad-core Tegra 3 processor and a 12-core graphics processor with a 7-inch 1280 x 800 HD screen. Claimed battery life is good for nine hours of video viewing.
Near field communications (NFC) is built in to the 7, along with an accelerometer and a gyroscope, and it costs $199 for the 8GB version and $249 for 16GB, with a $25 gift card to buy media or apps and a few free films, books, and magazines thrown in.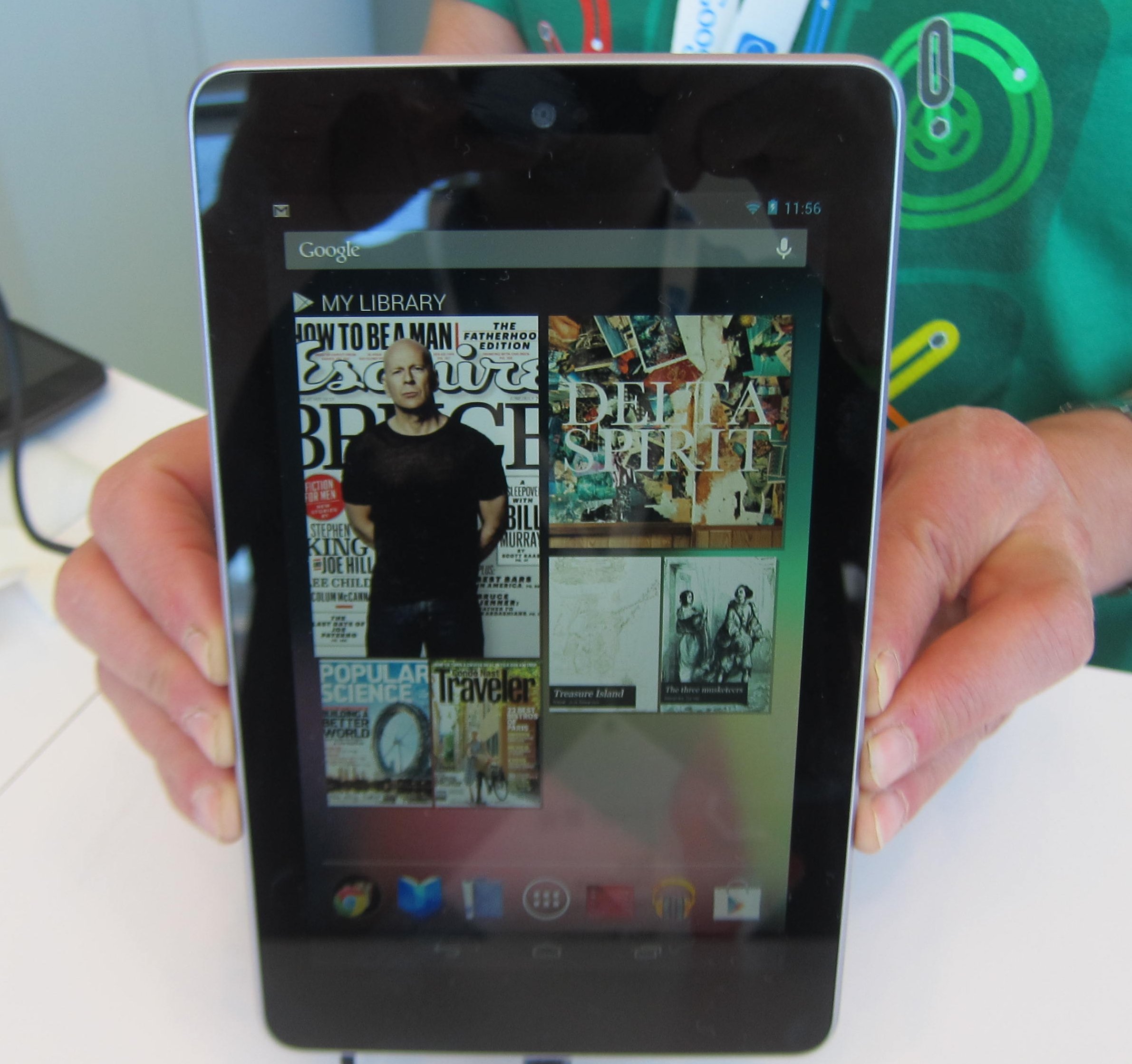 The Nexus 7 from Google
Hugo Barra, director of product management at Android, said the purpose of the tablet is to build a high-definition unit that shows off the best of graphics and gaming. Its price pitches it firmly against Amazon and other ebook readers, but it may also scoop those interested in trying a cheap tablet before investing in a larger system.
To that end, Google has done deals with film and TV producers, as well as magazine publishers like Conde Nast, to add content to the device via the Google Play store.
The tablet runs the latest Android build, codenamed Jelly Bean, which ix released in July; Google is making the software developer's kit available now.
Google is also prepping a platform developer kit with future Android builds, to be released months before the next operating system build goes live, so manufacturers can tune their devices to the new code.
The Jelly Bean Factory
So what's new in Jelly Bean? For a start, the graphics look a lot smoother, thanks to a rewriting of the code to allow the CPU, GPU, and display to work in sync. The touch screen technology has also been improved. For example, the device now remembers where your last screen touch was and factors that into the rendering of the next page.
The notifications bar has been altered to look much more like the news feed seen in social networking sites like Facebook. Notifications are expandable; for example, news headlines can display a selection of stories and users can wipe or share notifications with a finger-stroke.
Widgets on the home screen are now sizable and Android's Beam NFC system has been upgraded to allow files to be shared between suitably equipped devices just by knocking them together.
Voice recognition has also been improved and will now work in an offline mode, thanks to the installation of Google's own speech recognition engine. This is also used for voice translation on the upgraded Jelly Bean search engine, and the service will now answer back to your questions.
The search result page now includes a more visual representation of search results (although standard web results are also available) and Google has also added a predictive search capability called Google Now.
Google Now learns the user's interests from their search terms as well as their location, and suggests real-time data on things like the daily sports scores and commuting times.
It will also link into Google's calendar functions, alerting users not just to the fact that they have an appointment but also giving an estimated time to get there. In a similar way the predictive technology will also work in the Google Play store to suggest media that fits in with previous viewing or reading.
Nexus Q
Both announcements were long-expected and fit in with Google's overall strategy, but the company has also been showing off the Nexus Q. This is a ball-shaped Android computer with ports to plug into the TV or speaker systems and wireless radios to connect with Android tablets and phones. People with Google Play accounts can then order the Q to stream music directly from their collections, and the Q can be controlled by anyone with permission and suitable hardware.
The Nexus Q will go on sale in July, priced at $299, and Google is billing it as a "social streaming hub." Google said the Q is fully hackable via a USB port and it expects developers to play around and see what they could do with the hardware. To that end all attendees at Google I/O 2012 will get Nexus 7, Galaxy phone, and Nexus Q later on Wednesday.
While the Q is quite expensive for what it is, one reason could be that the device is built in the US, something Google made much of in its video. The not-so-subtle dig at Apple's outsourcing went down well with developers, some of who are happy to spend more for hardware that employs American workers. ®