This article is more than 1 year old
Study: Users prefer Google+ over Facebook
For a ghost town, it's a nice place to visit
Google+ is regularly derided as a "ghost town," but at least the spirits who haunt it are happy. According to a study from the American Customer Satisfaction Index (ACSI), the Chocolate Factory's fledgling social network scores top marks in customer satisfaction, leaving Facebook far behind.
According to ACSI's figures, Google+ tied Wikipedia with a score of 78 out of 100, leading the pack of all the social websites surveyed. By comparison, Facebook scored only a 61, which was actually 7.6 per cent lower than the previous year.
"Facebook's drop coincides with the release of its Timeline profile, a significant change to the look and organization of its pages," ACSI said in a statement. "Users complain that they cannot opt out of the new profile design."
ACSI attributes some of Google+'s high satisfaction marks to its ability to integrate Google services such as search, YouTube, and Gmail. It also calls out the "well liked" Google+ mobile app, which Google says now accounts for the majority of its social network's traffic.
"In addition," ACSI writes, "the Google+ social network is not inundated with the kind of advertising that seems to irritate many Facebook and other social media users."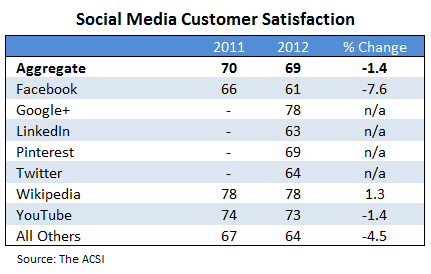 Nobody may use Google+, but at least it's not Facebook
ACSI expanded its coverage of social sites only this year, so no satisfaction rating was available for Google+ for 2011.
Still, the survey results come hot on the heels of the latest figures from website analytics firm Compete, which show the number of unique visitors to Google+ growing 43 per cent from May to June.
Compete puts the network's total number of unique visitors at around 32 million per month, which doesn't quite jibe with Google's own, rather more optimistic figures: at the Google I/O conference this year, engineering veep Vic Gundotra said Google+ now has 250 million accounts, with 150 million active users per month and 75 million daily users.
Whichever numbers you believe, the ghosts of Google+ do seem to be rising from the dead a little more often than before. Just don't expect them to drag Facebook into its grave any time soon.
"It may seem odd that a company with more users than any other company in the world has such a low, and falling, level of customer satisfaction," ACSI writes. "But, paradoxically, Facebook's enormous user base also has created a certain degree of monopoly power."
In other words, it doesn't matter how unhappy Facebook users become, or how green the grass looks on the other side. Users will stick with it as long as it's just too much hassle to switch. ®