Why DOES Google lobby so much?
No, no, Brits, this is how a web-friendly country should be run
---
Special report Last month we reported how Google was astroturfing British politics by chivvying "citizen groups" to show spontaneous support for policies that benefit Google. Here's another example.
Google sponsored a "mentoring" event for tech startups, called the "Campus Grand National" last Monday. For US readers, the Grand National is a frantic steeplechase held in April during which horses die – so it's quite an appropriate metaphor. Campus is the name of the Google-owned and operated office complex it sublets to webtastique startups.
Budding internet wannabes who attended the Web 3.0 Grand National could benefit from "networking and pitching opportunities", advice from the government's trade promotion agency UKTI, and a session titled "Google mentor speed-dating [sic] hosted by Google". But there was something else on the agenda. At 11.30am a session by Coadec – "the Coalition for a Digital Economy" – asked: "What are the big challenges facing startups from outside the UK and what policies should we be telling Parliament they need to change?"
It's a curious question.
You may think an entrepreneur may have enough on their plate already. For example, they may be more preoccupied by raising finance, sourcing materials, striking sales deals, assuring their path to market is smooth, dealing with red tape, and actually building their product or service. You may surmise that when Steve Jobs and Steve Wozniak were crafting the first Apple computer in a garage, "changing policies" was not very high on their agenda. We know, via one of the founders, that the startup Microsoft was too busy debugging Altair BASIC to dream up policy lists to lobby with. Neither, for that matter, was lobbying a priority for Spotify.
Much ado about a "non-profit"
So what then is Coadec, and why is it so keen to prod startups into this non-vital area?
Coadec describes itself in a rather hazy brief as "a non-profit organisation, made up of a wide range of members ... who believe that the future of Britain lies in the success of its digital economy".
It was set up with help from Google, and its first offensive was a Google-sponsored report on copyright. When this was finally published in 2011, it posed a dilemma: it turned out digital small-to-medium enterprises were not troubled by the UK's copyright regime and they expressed strong support for intellectual property.
(The Coadec survey found that 66 per cent of digital SMEs thought UK copyright is fair versus 10 per cent which didn't; 72 per cent of digital SMEs disagreed that the UK copyright regime stopped them innovating, against 7 per cent who agreed. Brushing all this quantitative evidence aside, the Coadec-Google report focused on qualitative evidence, providing pages of views from web investors and startups advocating change. Several of these are anonymous.)
Coadec has continued to lobby to change the laws of the UK legislative in a way that's more friendly to the Californian web giant.
Whether copyright needs any legislative changes is an open question. Voluntary industry cooperation and new partnerships make most suggested changes moot. One suggested solution is a digital rights exchange to allow the faster clearing of copyright licences at a lower cost, and it's one being discussed now.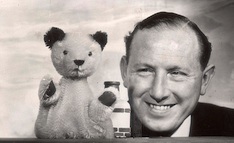 Let's brainstorm about copyright issues,
shall we, children? Sooty has a few ideas he'd
like to share...
We asked Coadec's founder, journalist Mike Butcher, editor of TechCrunch Europe, how much Google had invested in Coadec, but he declined to answer. Butcher told us he was not paid by Coadec in any way. Coadec CEO Jeff Lynn, who wasn't present at the event, told us "it was more a set of brainstorming discussion sessions than actual policy formulation".
Nevertheless, it was a Google-sponsored group, doing politics at a Google-sponsored event, held in a Google-owned venue. It is worth questioning how valid the results will be. Citizen groups that don't represent citizens, and startups that don't really represent startups, are a questionable addition to our democracy. They may earn Google more than one seat at the table – but they arguably deserve to be described as "astroturf".