In a month that's recorded some wins for wave energy in Australia, peak research body CSIRO has now published a study suggesting wave power could yield as much as 11 percent of the country's electricity by 2050 – if the cost and efficiency claims made for the technology are borne out in the long term.
Its report, Ocean renewable energy: 2012-2050, finds that the Southern Ocean is the greatest potential energy source because of the strong winds that provide a consistent and large swell to coastlines in the south.
The report suggests that of the technologies available to extract useful power from the ocean, wave energy is the most promising. Some regions – the Kimberley and the Banks Strait between Eddystone Point and Flinders Island in Tasmania – might be suitable for tidal power, but the CSIRO says "the impact of extracting the energy from these regions is uncertain and requires more research".
Ocean current and thermal technologies, on the other hand, are pretty much dismissed as unproven.
The report sounds a warning on the environmental impacts of wave energy (with consequent knock-on effects for tourism, shipping and marine life), and notes that cost and logistical questions remain unanswered.
CSIRO also says that in spite of "several hundred" wave energy devices being researched worldwide, there's a paucity of published data on their effectiveness.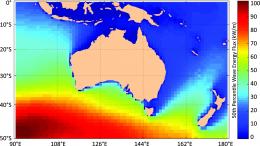 CSIRO's depiction of good spots to harness wave energy
Suitable data could conceivably flow from more recent activities: earlier this month, Lockheed Martin signed up to replace Leighton Holdings as major contractor for US company Ocean Power Technologies' plan to build a 19 MW facility in Australia.
OPT, founded by Australian-born George Taylor, is planning to build the wave farm for project owner Victorian Wave Partners. If the project goes ahead, Lockheed Martin will provide design, manufacturing, systems integration and supply chain management. The project is due to deliver its first electricity to the grid at Portland in Victoria in 2014, growing to 17 PowerBuoy units by 2017. ®