Oracle cans IBM attack ad after ticking off from watchdog
Big Blue shed big blue tears
---
Oracle has pulled an attack advert that claimed its Exadata system is twenty times faster than IBM Power systems - because it isn't, and an advertising watchdog wasn't impressed.
The ad compared an IBM Power system database performance at a European retailer with the same databases running on Exadata. The retailer found they ran twenty times faster. Oracle than extrapolated that specific case to boast that, for any application, Exadata systems ran twenty times faster than Big Blue's Power systems.
The claims appeared in full-page ads run in the Wall Street Journal, and also on its web site.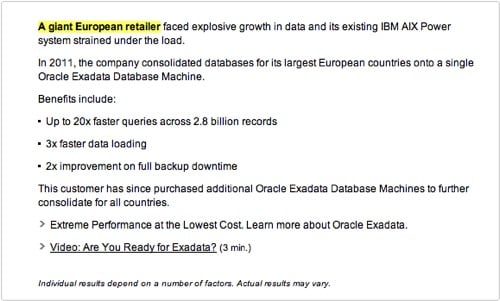 Oracle Exadata ad text
The image above shows the attack ad text from a cached copy of Oracle's website. Our search term is highlighted in yellow.
Now Oracle is red-faced because the National Advertising Division (NAD), of the US Advertising Self-Regulatory Council, has got it by the nads: the watchdog demanded "that Oracle Corporation discontinue certain comparative product-performance claims for the company's Exadata database machines, following a challenge by International Business Machines Corporation".
Oracle has discontinued the publicity campaign. NAD considered that the advert implies all Oracle Exadata systems are twenty times faster than IBM's rival product line, a claim Oracle couldn't prove. That was IBM's position, and Oracle disagreed. NAD found in Big Blue's favour.
Oracle stated it was "disappointed with the NAD's decision in this matter, which it believes is unduly broad and will severely limit the ability to run truthful comparative advertising, not only for Oracle but for others in the commercial hardware and software industry". It will appeal NAD's decision to the US National Advertising Review Board. ®