Khronos Group updates OpenGL and OpenCL graphics standards
20 years of the graphics standard
---
The Khronos Group has released the latest version of its OpenGL graphics standard, 20 years after SGI first opened up the code.
The latest revision, OpenGL 4.3, adds the ability to harness the GPU for shading and draw commands, ETC2/EAC texture compression is included as standard, and an improved debugging system has been added, along with security enhancements aimed at stopping information leakage between applications.
"It's a big release for us," Neil Trevett, president of the Khronos Group, told The Register. "It's quite amazing when you think the technology has been around for 20 years."
OpenGL is now the standard for Mac and Linux systems, he said, and was making significant inroads into Windows applications. While he wouldn't be drawn on how long OpenGL will remain, Trevett said the standard's openness would ensure it had a long life.
On the mobile side, the Khronos Group has also released the latest revision of the OpenGL ES standard, version 3.0, which is designed to work with tablets and smartphones. The new version, which is backward compatible with version 2.0, adds GPU support, a big jump in texture rendering speeds and functions, and greater integration with the OpenGL APIs.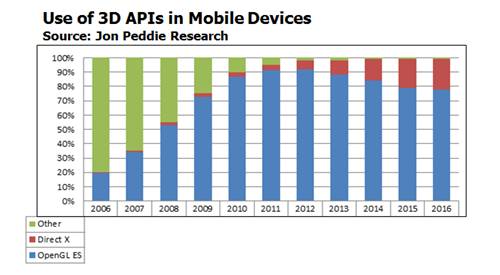 DirectX is coming, albeit slowly
OpenGL ES 3.0 is getting a small but increasing amount of competition from Microsoft's DirectX, and Trevett said that would continue, although he was confident that new developer-friendly features, such as the ability to draw multiple copies of an object or triangle strips with one command, would win OpenGL lasting support. ®