Amazon flings open doors to Android Appstore in Europe
At what point does choice turn into fragmentation?
---
Amazon's Android Appstore is now open for business in Europe, providing a branded alternative to Google Play, and a free app every day, in preparation for the forthcoming Kindle Fire.
The Kindle Fire has been on sale in the US for nine months now, and is entirely dependent on the Amazon Appstore, so that store was going to have to jump the pond ahead of the hardware. The fact that it has now done so points to the Amazon hardware arriving on this side of the pond next week, though probably not the existing model.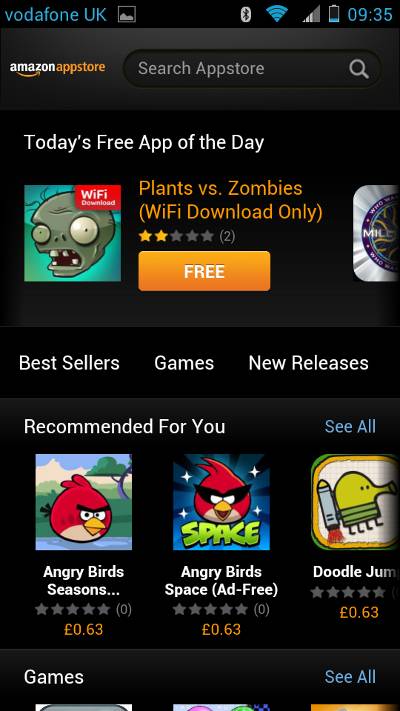 The Kindle Fire is a seven-inch Android tablet, but while the Android OS is free, the bundled software isn't. So manufacturers wanting to include Google Play (the store), Google Maps and Gmail on their gear have to hand over substantial amounts of cash. Google Play isn't even available to download, so if your device manufacturer hasn't paid the Google tax then you're not allowed in the store (unless you hack your way in).
Google Maps can be downloaded, though Reuters is now reporting that Amazon has been cosying up with Apple to use Cupertino's alternative.
When it comes to app stores, Android devices have always had alternatives, including GetJar and SlideMe, but Amazon's store is significant thanks to its brand and the innovative approach to pricing which provides much more flexibility than Google can offer.
Developers submitting to Amazon's store don't set their price, only what they would like to get. Amazon reserves the right to discount that price, or create app bundles, promising only a fraction to the developer, and nothing at all if the developer agrees to become the Free App of the day.
At first glance that policy seems to mean higher prices, but the ability to compare is welcome and given the daily freebie there seems little reason not to install the store. We did, and had a little difficultly as it picked up our Amazon.com credentials from a previous install, but clearing down and installing again fixed that, so we can now impulse-buy apps just as easily as anything else from Amazon. ®