Everybody has their own twist and take on software-defined networks, or SDN, these days as virtualization moves on from servers and storage and into the still crufty world of networking. Server vendors who bought into networking to bolster themselves are now scrambling to be players in virtual networks when all they thought they needed to do was sell switches along with their servers and storage. Hewlett-Packard is one of them, and now it finds itself in the position of having to create an OpenFlow controller.
HP wants and needs to ride the OpenFlow wave as much as any other network gear provider, and is therefore rolling out its own OpenFlow-compatible SDN controller as well as expanding the number of switches in its portfolio to support the OpenFlow protocol. And, because HP is also one of the largest services peddlers in the world, the company is also hoping to make a buck or billion helping customers assess what they need to make their networks virtual and flexible and then help them install HP wares to get them there.
Saar Gillai, CTO for the HP Networking division, a mashup of the ProCurve and 3Com businesses, tells El Reg that the company will be the first one to provide an end-to-end SDN capabilities when the company's implementation of an OpenFlow SDN control freak, called the Virtual Application Networks SDN Controller, is brought to market next year.
And Gillai is promising that HP will be able to provide some differentiation with its OpenFlow-enabled switches and the new controller that don't just separate the data plane from the control plane in data center networks. It is also not just allowing for traffic routing and network configuration to be programmed out-of-band from the switches and changed on the fly as traffic dictates, but that abstracts the networking layer from applications running in the data center and allows for business applications and add-on network apps to ride atop of this virtual network and change its behavior rather than be hindered by it, as is the case with physical networks.

HP's software-defined networking architecture
"The promise of SDN is that you have an abstracted control plane that allows you to tie your applications to the network," says Gillai. But getting your network to a state where it can be taken over by an SDN controller based on the OpenFlow protocols still requires a lot of manual tweaking.
HP's Intelligent Management Controller (or IMC) a product that has been around for a number of years, can get a network into a state where an OpenFlow SDN controller can take over, according to Gillai. The irony is that since early this year HP has been positioned IMC as an alternative to an OpenFlow-based SDN controller. Now, HP sees that it needs a real OpenFlow controller.
How this controller will be distinct from IMC is not clear, but Gillai says that it is based on HP's own technology and through ideas it has generated through working with the Stanford University researchers who created the OpenFlow protocol back in 2007, some of whom went on to found Nicira, the virty network company operating in stealth mode that VMware just paid $1.26bn to acquire back in July, shaking up the entire networking industry.
HP's Virtual Application Networks SDN controller is expected to be release in the second half of 2013, according to Gillai, and is in trial right now at HBO, the cable channel operator, and CERN, the home of the Large Hadron Collider.
The SDN controller leverages some open source bits, which Gillai did not identify, as well as some homegrown code, probably yanked out of IMC. HP plans to ship it in two versions, either as a virtual appliance running inside of a virtual machine or as a bare-metal appliance loaded up on an HP ProLiant DL series rack server.
The SDN controller itself runs atop a Linux kernel and will be deployable on either Microsoft Hyper-V or VMware ESXi hypervisors. Each instance of the SDN controller will be able to handle the control planes of thousands of switches and HP will also be adding its own clustering technology to its SDN controller to ruggedize it.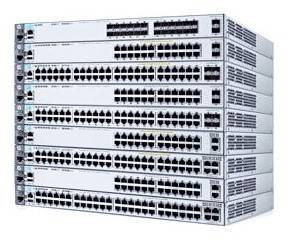 HP 3800 Ethernet switches
HP has not yet released an SDK so cloud and network application providers will be able to code apps for the network working in conjunction with the SDN controller, but Gillai says there will be one eventually. It has been distributed to early beta customers on a restricted basis.
HP has created its own network security program, called Sentinel, that is based on its TippingPoint appliances that plugs into the SDN controller and OpenFlow framework, and the people running the HP Cloud public cloud have created interfaces between the SDN controller and the OpenStack cloud control freak.
These interfaces are not based on the Quantum project at OpenStack, by the way, and do network segmentation, set up virtual networks, and other things that the Quantum interface cannot do. CERN has created a network load balancer that hooks into the HP SDN controller, and it is not clear how this will be commercialized or open sourced.
The Virtual Cloud Networks feature of the HP Cloud is expected to be available in the second half of next year, and the Sentinel security application is available now through an early access program.
Virtual networking requires switches that speak OpenFlow, of course, and HP also announced that it has 25 different models in its Ethernet switch lineup that support OpenFlow takeover of their control planes. This includes the sixteen models in the HP 3500, 5400, and 8200 series and now nine models in the HP 3800 line. To date, Gillai says HP has shipped 15 million OpenFlow-capable ports on the market. ®