This article is more than 1 year old
Perth porkfest crowned ULTIMATE BACON SARNIE
Jubilant Scottish cafe celebrates A90 Behemoth triumph
It's official: "The A90 Behemoth" is the ultimate bacon sarnie, according to our pork-loving gourmet readers.
The pinnacle of pork perfection was put forward by Neil Cardy and, against a plethora of porcine-rich peers, was picked in our public poll. Cardy, who tucked into the mega-butty at The Horn cafe on the A90 between Dundee and Perth in Scotland, drooled: "Masses of bacon to set you up for the journey south."
Here's a snap Cardy took of The Horn's A90 Behemoth ahead of our sandwich survey: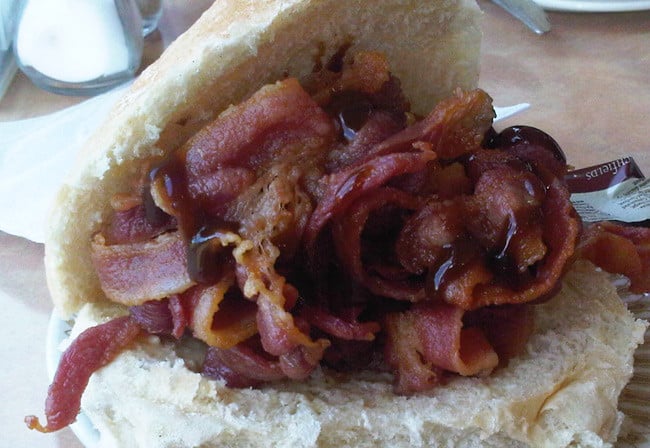 The A90 Behemoth was the clear poll winner with 780 votes. Delightfully, The Horn's local paper - The Courier - quickly got wind of the result and dispatched a snapper to capture the cafe's staff and management's jubilant mood. We're obliged to the paper for sending us this pic: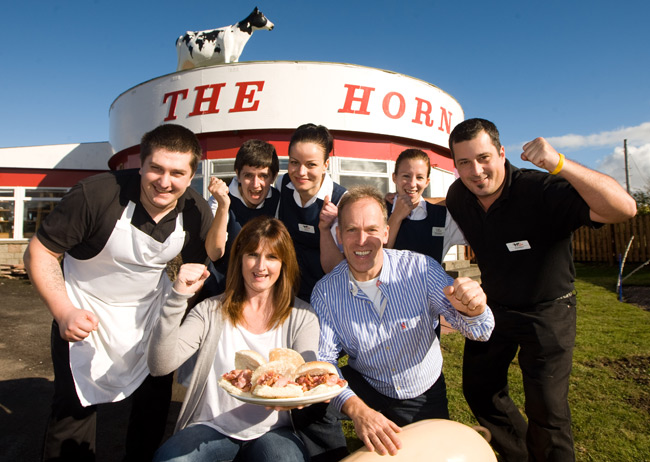 Seen here behind a heaving platter of A90 Behemoths are, back row from left, Daniel Tuchowski, Gillian Bruce, Beata Zdzieblo, Erzsebet Szabo and Janos Fazekas, and at the front owners Julie Farquharson and hubby Kenny Farquharson.
Good stuff. So, you're wondering, where exactly is this The Horn of bacon plenty of which you speak? Look no further than Street View, whose driver we suspect succumbed to the temptation to fill his face with bacon, after circling the cafe's car park: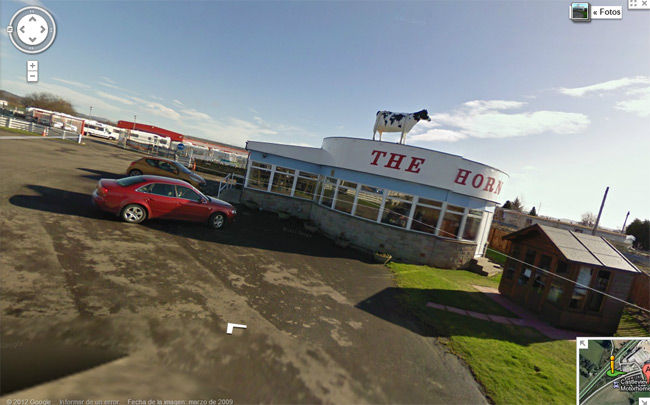 The conclusion to be drawn from our ultimate bacon sarnie poll, and indeed the fierce debate which preceded it, is that the essential ingredients for pork nirvana are bread, bacon, and then more bacon, perhaps with a dash of brown sauce, topped with a tad extra bacon.
This is borne out by both SuperTim's "Precision Engineer", the runner-up with 558 votes...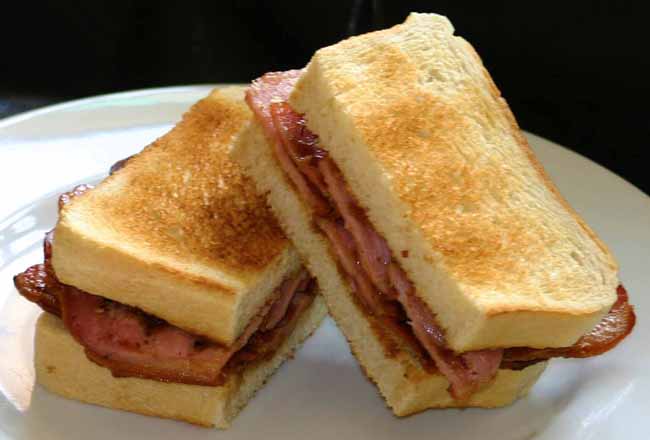 ...and third-place winner "The Classic Jumbo" (295 votes), offered by Adam Egan, another brown sauce fan: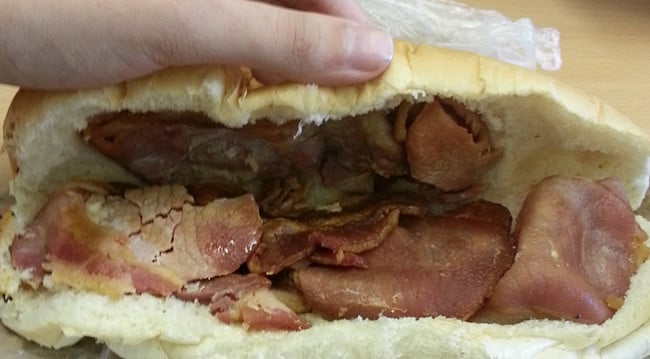 You can see the full poll results here. Bacon sarnies all round for our contestants, and before you lot kick off again in comments, let's all agree that the Church of Bacon is a liberal and accommodating faith, and its doors are always open to those who worship the divine sliced pork, however they choose to indulge their passion. ®