Assange chums must cough up £93,500 bail over embassy lurk
Wikileakster still living on sofa in small diplo flat
---
While Julian Assange™ continues to sun himself under a SAD lamp in London's Ecuadorian Embassy, the supporters who put up his bail money - and so kept him out of British custody and free to hole up in the embassy - have been ordered to cough their cash up.
Nine supporters of Assange have been told by judicial authorities to hand over hefty sums of money having failed in their legal duty to secure the surrender of the 41-year-old Australia-born webmaster in connection with extradition proceedings.
His final appeal against being deported to Sweden, where prosecutors wish to question him over allegations of sexual misconduct, failed in the Supreme Court in June. Within days of that decision, Assange - apparently unbeknownst to the friends and supporters who had pledged their cash to keep him out of British custody during the process - breached his UK bail conditions by evading curfew and seeking political asylum in the Ecuadorian Embassy in London's Knightbridge. He has remained there ever since.
Judge Howard Riddle said today that some of a bond of £140,000 offered in late 2010 to cover Assange's conditional bail must now be paid.
A total of £93,500 has been demanded from the nine sureties. The wealthy ex-Guards officer and journalist Vaughan Smith, who had housed Assange in his country house as part of the bail conditions, is expected to pay £12,000 by 6 November.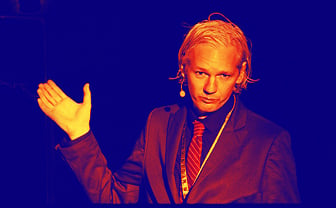 Lady Caroline Evans, journalist Phillip Knightley and Nobel Prize winning scientist John Sulston will lose £15,000 apiece for acting as sureties to Assange.
Riddle noted that the individuals who put up Assange's bond had foolishly "acted in good faith."
The judge said [PDF]:
I accept that they trusted Mr Assange to surrender himself as required. I accept that they followed the proceedings and made necessary arrangements to remain in contact with him. However, they failed in their basic duty, to ensure his surrender. They must have understood the risk and the concerns of the courts. Both this court and the High Court assessed that there were substantial grounds to believe the defendant would abscond, and that the risk could only be met by stringent conditions including the sureties.
Assange, meanwhile, remains in somewhat cramped conditions alongside Ecuadorian diplomatic staff at Flat 3B, No. 3 Hans Crescent in Knightbridge. The Ecuadorian government granted him political asylum in August but Scotland Yard cops have clear instructions to arrest the WikiLeaks founder "under any circumstances" should he set foot outside the embassy, which is recognised legally as Ecuadorian territory. ®