This article is more than 1 year old
Skype for Windows 8 is coming: Always on, always in your contacts
And TWO SCREENS OF SMILEYS - that's worth $8bn, right?
Microsoft has dropped the veil on the next version of Skype a few days before it launches on Thursday with Windows 8. The video chat service has been reworked to be always-on and compatible with the live tiles and asymmetric grid that are at the core of the new user interface.
Skype for Windows 8 will be "immersive and effortless" claims Microsoft announcing that it will be permanently on in Windows 8 with users able to receive calls or instant messages from Skype contacts at anytime without specifically having to log in.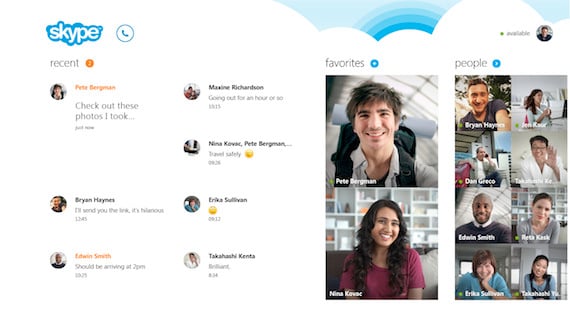 Skype's new home screen, in the reworked, always-on service for Windows 8
There's no mention of the data usage costs involved, but this will obviously require a steady connection. MS swear it won't bleed the power though, we're assured that it will run "seamlessly" in the background without draining your battery.
As a native app Skype can appear on the homepage of Windows 8 devices, and in common with other Windows apps, new data such as new IMs will be pushed to the front of the tile, so fresh information can be taken in at a glance.
Skype contacts can be synced with the People app: think of it like a "cloud-connected address book" urges Microsoft and tied in with the other social networks connected to the address book.
Smaller design tweaks include adding recent chat messages and calls on the home page, along with favourite contacts, and foregrounding Skype's paid-for call services to make them more accessible.
If you're getting tired of talking to your friends, you can snap Skype to the side of the screen and concurrently browse the web, maps or another app, letting you "share an experience with someone you love"as Microsoft put it.
A video announcing the new service demos the app on a Surface tablet but it will be available for desktop and mobile phone as well.
And there are two whole screens' worth of smileys - the better for you to express your emotions with.
Windows 8 will be available on October 26. ®