HP: Look to the East, admins! Lo, it is Project Dawn
Sneak Reg preview of cheapo 3PAR storage stocking fillers
---
Dawn is approaching for HP storage, and the sun will rise on two new low-end 3PAR storage arrays providing a future for legacy EVA array users.
Currently there are three 3PAR models HP is focussing on:
The high-end P10000 with its fourth generation ASIC speeding its operations; it was announced in August 2011 and stores up to 1.6PB. An all-flash build exists.
The T-Class, the previous high-end system using the third-gen ASIC, was announced in September 2008, and is a bit long in the tooth.
The F-Class, a downsized T-Class with third-gen ASIC, was announced April 2009. It stores up to 348TB.
Our understanding us that the T-Class has been effectively replaced by the P10000. It is not listed by HP on its 3PAR product comparison webpage.
HP's legacy EVA range slots in below the 3PAR line, overlapping the F-Class to an extent, but with no common technology. HP's Peer Motion gear can federate 3PAR, LeftHand (P4000 or StoreVirtual iSCSI arrays) and EVA arrays, and have them function as a single entity with data movement between them.
EVA development has effectively stopped, and EVA customers are being targeted by Dell armed with its Compellent arrays; EMC and its newer VNX/VNXe series; and IBM with its StorWise V7000 and V3700 arrays.
There have been rumours of incoming low-end 3PAR arrays and it seems these rumours had some truth to them.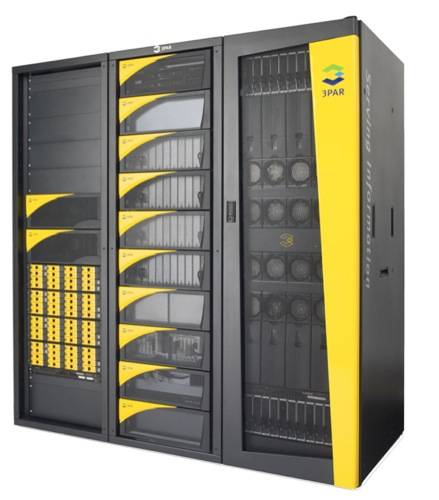 HP 3PAR utility storage array
HP is preparing a big storage reveal on 3 December, claiming "legacy storage designed for 20 years ago cannot adapt to virtual, cloud, and big data demands". This is, we understand, Project Dawn and it involves using eighth-generation HP server platforms inside new storage arrays.
El Reg storage desk has heard there will be two new 3PAR arrays slotting in below the F-Class:
A two to four-node array pitched against EMC's VNX5500 and 5700 arrays. It will have up to four controllers and 480 drives, and could replace the F-Class.
A low-end low-cost high-performance Fibre Channel and iSCSI SAN storage product with a dual-controller design housed in a 2U enclosure using SAS drives. There will be 24 2.5-in SAS drives in another 2U enclosure. The system will use the fourth-gen 3PAR ASIC and be pitched against EMC's VNX5300.
HP sees three market sweet spots for block storage arrays, centred on 24, 80 and 112 disk drives. The new 3PAR duo will compete here against the aforesaid EMC VNX arrays, and also IBM's StorWise, Dell's Compellent and NetApp's FAS lines, the FAS2000 and 3000 we assume. In general HP will claim the new 3PAR models provide support for twice as many virtual machines, offer remarkably easy provisioning, and have best-in-class Hyper-V and VMware integration.
To keep EVA users happy, data can be directly imported from EVA arrays using the CommandView management tool. Also the new 3PARs can be replication and disaster-recovery targets for EVA users. A graceful migration plan can now be put to HP's base of more than 100,000 EVA arrays rather than a rip-and-replace exercise. HP's channel sales force can target customers with older HP, HDS, IBM and NetApp gear that's coming off lease or facing end-of-life, and offer them a 3PAR alternative.
If the T-Class is going away, and the larger of the new arrays replaces the F-Class, then we have a three-model 3PAR range, all using the fourth-generation ASIC: the P10000, the new mid-range box and the new entry-level machine.
These systems will complement StoreVirtual, the rebranded P4000 LeftHand range of iSCSI storage arrays and StoreEasy line of Windows Server 2012-powered converged file and block access arrays. HP's Converged Infrastructure storage products, with the inclusion of StoreAll (IBRIX) scale-out filers and StoreOnce deduplicating backup to disk systems, are starting to look coordinated, consistent and clearly positioned.
We've previously HP about unannounced but forthcoming products, and it has consistently said "no comment". We've asked anyway.
Now what about these X1000 and X3000 File Appliances? Surely they should be rebranded as StoreFiles or some such? Will the rays of the rising sun from Project Dawn shine on them too, and perhaps even a fifth-generation 3PAR ASIC soon? ®
Similar topics
Narrower topics