This article is more than 1 year old
US team poised for second pop at PARIS spaceplane record
Indiana uni boffins challenge Vulture 1 once more
Students from the University of Southern Indiana are poised to make a second attempt on El Reg's Guinness World Record for the highest launch of a paper plane.
On 27 October, a team from the uni's Engineering Design and Analysis class dispatched their Geronimo aircraft (pictured below) under a helium-filled meteorological balloon from Marion, Illinois, hoping to unleash their vehicle at 100,000ft (30,480m).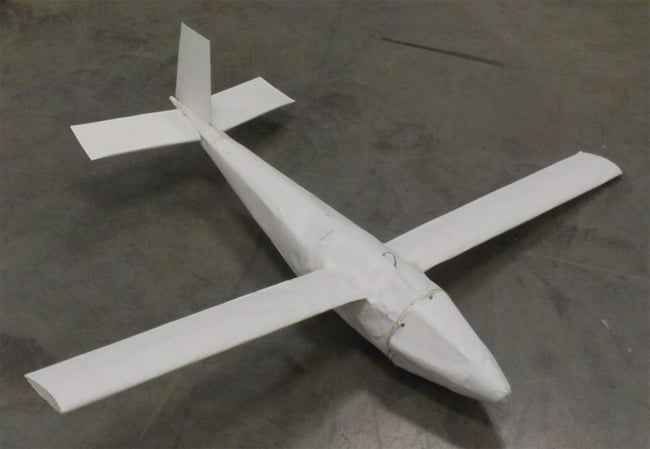 Unfortunately, a premature pop cut the mission short. The university's professor Glen Kissel explained: "For some reason, the balloon burst at about 88,000ft (26,820m), far below the expected 110,000ft (33,530m), which is where burst happened on two previous flights with this type of balloon. As a result, the plane was never released."
A Tiny-Trak TU-401 APRS unit allowed recovery of the command tracking pod, camera pod, and the release pod/plane, although Geronimo suffered a bloody nose on the ascent.
Professor Kissel said: "Somewhere before or after burst, we're not sure, the nose cone of the plane fell off (it had been cemented on shortly prior to launch), and our two tracking devices fell out."
The plane's own Garmin GTU-10 tracker and Tiny-Trak TU-601 APRS were picked up separately near Carmi, Illinois, the next day. We're assured that for the second pop at PARIS's record, the units will be secured inside a redesigned nose properly adhered to the aircraft's fuselage.
On Saturday at 16.00 GMT, weather permitting, Geronimo will once again take to the air, provisionally from Geff Elementary School in Jeffersonville, Illinois. The goal is to top the heady 89,591ft (27,310m) from which our Vulture 1 glided into the history books.
You can follow the mission via APRS on the callsign W9MOK (payload tracker) and W9MOK-2 (Geronimo).
We once again wish the team the best of British luck, and strenuously deny that a Special Projects Bureau black ops squad was seen around the first launch site armed with a very sharp pin.
However, we do take the threat to British high-altitude hegemony seriously, and would like to present the University of Southern Indiana with this representation of the struggle between our two great nations for paper-based supremacy: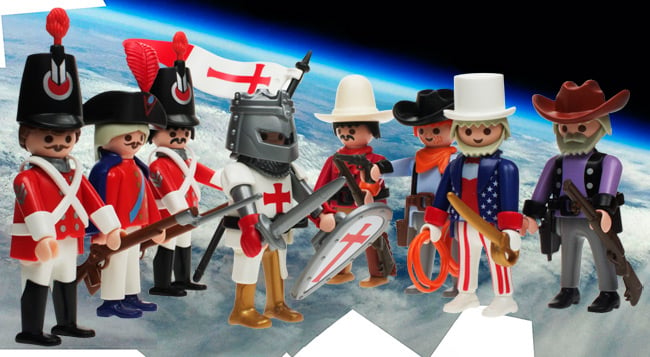 ®