This article is more than 1 year old
Incumbents plan new trans-Tasman cable
30 Tbps for TNZ, Telstra, Vodafone
Telecom New Zealand, Vodafone New Zealand and Telstra have inked a memorandum of understanding for a $US60 million trans-Tasman submarine cable to ease pressure on the limited, crowded links between the two countries.
Announcing the cable, TNZ noted that about 40 percent of its traffic is between Australia and New Zealand, a pattern mirrored by Vodafone, carried by the dominant provider Southern Cross Cable Network.
The new cable, currently named Tasman Global Access, would be a three-pair system with a 30 Tbps design capacity, and could be built by late 2014. Design is expected to be finalised "within the next few months".
Other proposals for A-NZ cables have foundered: Pacific Fibre, which was to link Sydney, Auckland, and the USA, was abandoned in August 2012. Although it had secured foundation customers that included Vodafone New Zealand and the country's academic research network REANNZ, the cable's proponents were unable to secure sufficient funding for the project.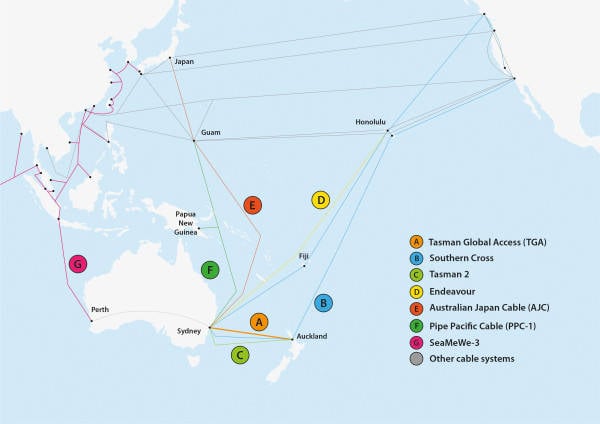 The new cable's proposed route is marked (A) on this TNZ map
Likewise, a Kordia-sponsored proposal to build an A-NZ cable called OptiKor. That project was also shelved due to a lack of customers.
Getting traffic anywhere but Australia will mean New Zealand providers will have to pick up another link, or revert to the Southern Cross network to cross the Pacific. Right now, the only other direct Australia-US link is Telstra Endeavour.
The owner-operator model for the cable means other telcos won't be offered direct access to the network, but would have to buy wholesale services from one of the owners. ®