This article is more than 1 year old
Hi-tech horses racing: how to stay Happy down in the Valley
Reg hack takes a punt on tech at Hong Kong's iconic racecourse
Behind the scenes
While the IBU's flash user interface grabs all the attention, most of the heavy lifting happens out of sight, according to HKJC's director of programme management, Scarlette Leung. A reusable Service Oriented Architecture was designed to integrate the front-end IBU tables and video displays with the content management system, workflow controls, contactless smart-card account system, security, and racing stats and odds display.
Data from new and legacy systems including image files, and multi-media content is integrated and managed to provide the near real-time rich content on display, while back end servers support real-time card transactions and continuously update a broad range of information, from the latest odds to race-by-race changes, to historical runner statistics.
The project to get IBU from drawing board to finished product took about three years from start to finish, beginning with a blank sheet of paper back in 2009, Leung explained.
"At that time the iPhone had come out but no iPad so we were pretty advanced in our thinking," she said. "We established an in-house team, designed the flow of the table, developed a prototype and design requirements, and selected a US partner."
Leung explained that the biggest technical challenge was in integrating all the various front and back-end elements to the IBU, while from a project management perspective it was in orchestrating a whopping 25 internal units across various parts of the business, IT operations and project and development.
Agile software development methodology was used on the front-end of the IBU while the Waterfall model was followed to cope with the back-end betting transactions and other elements "because we needed a tighter process", she revealed. With development groups in Hong Kong, US and Latin America, a 24 hour process of feedback and refinement was instituted with cross-functional teams meeting every week to check progress and log issues.
Going mobile
With a full time staff of around 5,000 and four times that number employed part time, the IT team at HKJC has more to worry about than just supporting race day transactions. However, the organisation was reluctant to reveal too much about its unique IT infrastructure for unspecified "sensitivities". It wouldn't even reveal what percentage of its servers are virtualised, but did comment that it "has not considered deploying cloud technology as customers' data security and privacy is always the Club's utmost priority".
Seeking extra info, The Reg found a release dating back to 2010 showing the Club rolled out SUSE Linux Enterprise Server as the standard OS for its "recent deployments of core information dissemination, integration and access systems" – praising its support for physical and virtual environments.
The Jockey Club has also been a pioneer in the mobile space, launching a Mobile Betting Service app for the iOS and Android devices in 2011 which covers racing, football and lottery-style Mark Six channels. It also launched a hugely popular Race Simulator app in 2012, allowing punters to study racing form in a more interactive way by running the races a day in advanced according to the info available at the time. Within two weeks of launch, the Race Simulator App had become the number one App in Hong Kong's iTunes Store and in just a few months amassed over 130,000 downloads.
Whatever your moral judgement on gambling, there's no doubt Happy Valley is an impressively high-tech racecourse. Staff wander around Adrenaline with iPads loaded with race info ready to help out bemused punters, there are QR codes which link to price lists for race day packages, and of course the afore-mentioned IBU set-up and mobile apps. Although HKJC was tight-lipped on future plans, The Reg could certainly imagine seeing the smart card system used more extensively at race grounds as well as an expansion of the betting table set-up. Also, the SOA is reusable and extendable so could technically be used to bring the same simplified betting experience to a mobile app.
It might not quite have the glamour of Royal Ascot or the Gold Cup, but it beats a rainy afternoon at Doncaster. Western bookies and race grounds could do worse than see how things are done down in the Valley.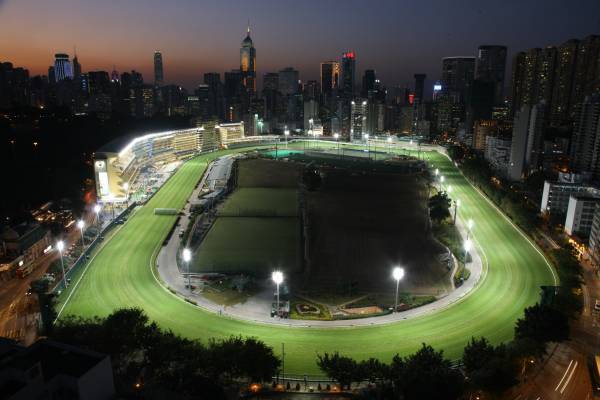 ®