This article is more than 1 year old
Review: Crucial M500 960GB SSD
A consumer-friendly drive with class-leading tech, capacity
When Intel entered the personal computer solid-state drive market it was with the stated aim of making SSDs something more than an expensive luxury.
It implied it would drive prices down to a point where SSDs would become a viable alternative to the standard rattling old mechanical disk drive.
But even the blue-hued chip giant must have been somewhat surprised by just how cutthroat this SSD marketplace has become. While SSDs may never quite reach parity with HDDs when it comes to price per gigabyte, they have become sufficiently less expensive to make the combination of a small SDD (for the OS and apps) and an HDD (storing everything else) a lot more attractive than it was even six months ago.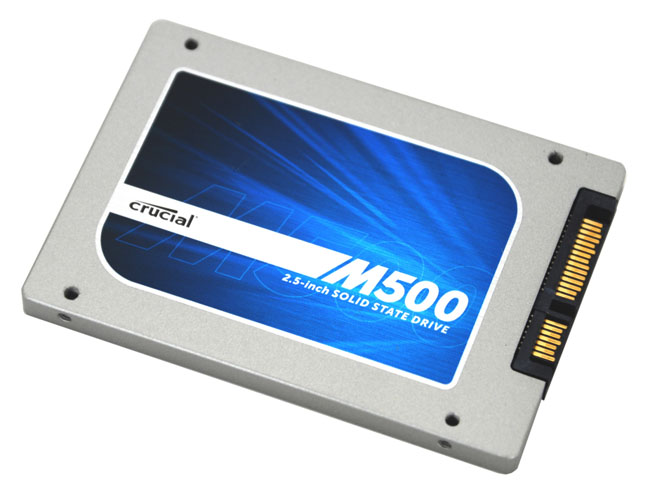 Ground-breaker: Crucial's M500 SSD
So drives have become more affordable. What about the other side of the equation: storage space? Large-capacity SSDs have been available for quite some time, either in the standard 2.5-inch laptop format or, for really large volumes of data, fitted on PCIe cards. These drives are historically aimed at the enterprise market because, let's face it, corporations are the only entities with budgets big enough to pay the huge sums of money these large drives normally command. The 800GB version of Intel's S3700 drive, for example, costs around £1732. Or how about the 14 grand OCZ wants for its 3.2TB Z-Drive R4 PCIe card?
Crucial's latest drive range, the M500 series, includes a drive which could be a real game changer in the high-capacity SSD segment and also, as it turns out, pushes the Pound-per-gigabyte envelope further towards that of HDDs. The 960GB M500 costs just under the £500 mark, including VAT, which works out to be an astonishing 48p per gigabyte, and is the first terabyte (ish) SSD aimed at ordinary users.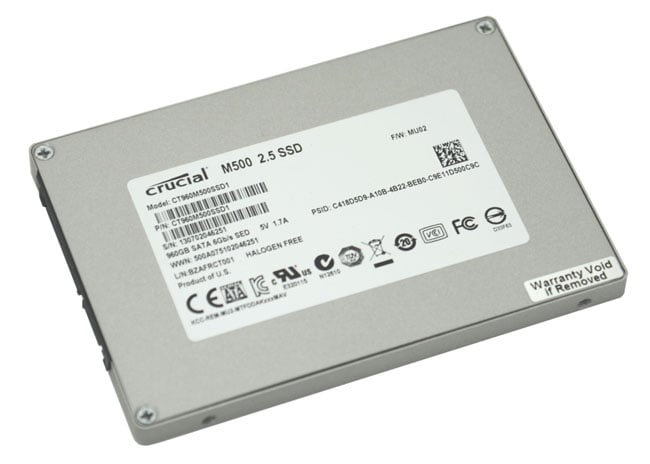 Round the back of one of the many form-factors the M500 comes in
Four drives currently make up the M500 family, with 120GB, 240GB, 480GB and 960GB capacities, respectively. All have claimed sequential read speeds of up to 500MB/s. The 480GB and 960GB units have claimed sequential write speeds of up to 400MB/s, while the 240GB unit has a 250MB/s write performance, and the 120GB drive struggles along at 130MB/s. The drives also come in a number of form-factors: all of them are available in 7mm- and 9.5mm-thick 2.5-inch formats, with the 120, 240 and 480GB capacities also available in mSata and M.2 versions.
M.2, you ask? It's the marketing name for the "Next Generation Form Factor" (NGFF) for SSDs and is expected to become the standard form-factor for Ultrabook drives in the near future. It's based around a thinner PCB than mSata and comes in a variety of PCB lengths - Crucial uses an 80 x 22mm PCB for the M500 series. It can also support Sata 3Gb/s and 6Gb/s, but perhaps more importantly, given where storage connectivity (SSDs in particular) is heading, four PCI Express lanes, which in turn should make possible to a huge leap in bandwidth availability.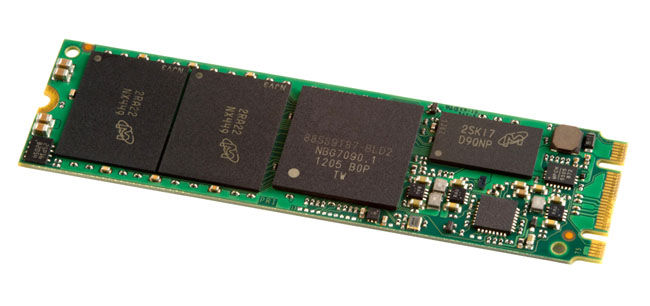 The M500 in the new M.2 form-factor
But back to the star of the show, the 960GB drive. All the M500s use Micron's latest 20nm NAND Flash 128Gb (16GB) chip dies, the first in the industry with this density apparently. The new chips have a 16KB page size and feature 512 pages per block. The downside is that they are only rated at 3000 program-erase (P/E) cycles – hence the drive's three-year warranty, although Crucials claim a drive endurance of 72TB TBW (Total Bytes Written), which works out to be around 40GB of data written every day for five years.
The drive has eight chips on each side of the PCB - and each chip contains four 16GB dies - giving the drive a total capacity of 1024GB, but because of the added space Crucial sets aside to cope with failed NAND cells, the capacity drops to 960GB. All this is configured in what Crucial calls "RAIN" (Redundant Array of Inexpensive NAND), something that is used in enterprise drives but as we will see later this isn't the only enterprise technology to be found in the M500.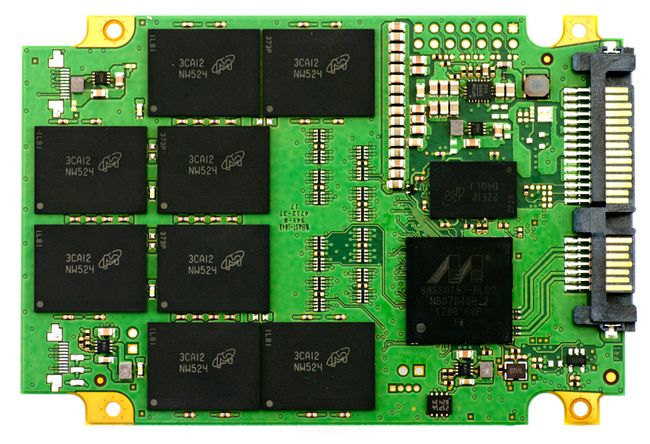 The 2.5-inch M500's PCB. All the capacitors at the top right of the board let it finish writing when there's a power cut