This article is more than 1 year old
Chinese 'nauts prep for next coupling in Heaven, clear way for new station
Second woman taikonaut and pals test tech for China's own orbiting platform
China's space agency has announced that its next manned mission will blast off tomorrow - and carry three 'nauts including the programme's second woman space traveller.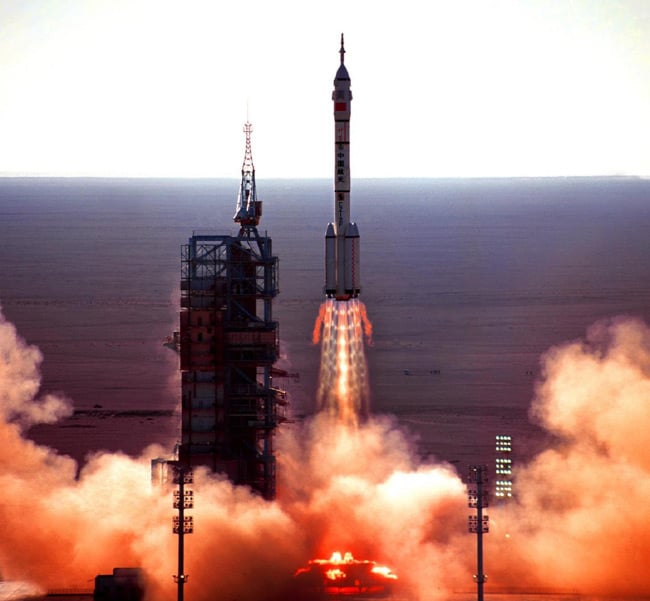 A Long March 2F lifts Shenzhou 5
The Shenzhou-10 craft will take two blokes - Nie Haisheng and Zhang Xiaoguang - and girl-naut Wang Yaping on a 15-day trip in space, during which they'll go through two docking tests with the orbiting laboratory module the Tiangong-1, aka Heavenly Palace, state news agency Xinhua reported.
The crew will try one automatic and one manual dock with the space lab, as well as giving a lecture to a group of students on the ground from inside the craft over a comms link to Earth. The mission is also aiming to test new technologies "related to the construction of a space station", China's manned space program spokeswoman Wu Ping said.
She added that the "launch ground and all control systems are ready" and the "taikonauts are in good and stable condition". The upgraded Long March-2F carrier rocket has already been fuelled in preparation for the trip.
The Shenzhou-10 will be China's fifth manned mission since 2003 as it races to catch up with established spacefaring nations Russia and the US. The country is also planning an unmanned Moon landing and the drop-off of a lunar rover, although it's not currently considering sending a person. ®