This article is more than 1 year old
Our week with Soylent: Don't chuck out your vintage food quite yet
But $770,000 in pre-orders says it's onto something
Our week-long experiment to live off Soylent has come to an end, bringing with it the reintroduction of typical food via a lip-smacking dinner of rice, black beans, and chorizo sauteed in chillis and red wine, and time to reflect on our experiment with the liquid food replacement.
During the course of our time chugging Food 2.0, we found ourselves dreaming of ornate dishes and fried carbs, and resenting the beige slop that we called breakfast, lunch, and dinner.
But we adjusted to it, and even found it pleasurable as a rehydrating hangover cure and useful as a grab-and-go smoothie for a rushed breakfast. The product certainly has people enthused, with over 6,000 geeks pouring over $770,000 into the ambitious food replacement, at the time of writing.
Our readers told us they thought it might help people with afflictions such as Crohn's disease, or for those who have major operations that put them on a liquid diet. This hack experienced five weeks on a liquid diet a few years ago after some fairly extensive jaw surgery, and we can attest that Soylent is much better than the drinkable meals the UK National Health Service supplied us with. We also don't appear to have lost any weight during our week on Soylent, whereas we came out of our liquid diet course with our ribs showing starkly through light shirts.
Soylent founder Rob Rheinhart tells us that Soylent is not explicitly positioning itself as any kind of medical product, but that the company has heard similar things from people with allergies and ailments. He says he's been having Soylent for "ninety per cent" of his meals for the past few months, and tells us "I feel fantastic – I still enjoy food, I just want to eat on my own terms."
Before, Rheinhart would find himself eating crappy fast food – noodles, pizza, other things that you'll find in any young male's fridge – and he says he was "frustrated" by this kind of poor diet. He was even candid enough to confirm that, as we've also reported, an extended Soylent sojourn doesn't disrupt one's bowel movements. "I would say it's pretty normal, just less, pretty quick, relatively clean," he let slip.
The company is in talks with medical professionals and people with a background in nutrition to bring much-needed expertise into the organization, and is arranging a controlled study at a California university, Rheinhart told us.
"We have quite a few very well-experienced and well-vetted doctors and PhDs advising us. It's underway right now. We're additionally using these resources to perform a controlled trial," he says. "It's important to realize that we have our roles – manufacturing, scale, and logistics. But we are working very closely with medical professionals, dietitians, nutritionists."
The next steps for Soylent are to move into a large manufacturing facility to bring costs down, and to gain FDA approval on the manufacturing process. "Make sure there are no contaminants, no particulates, no heavy metals, no microbes," he says. "It's about being absolutely verifiably safe and secure."
The company will also try and create a solid version of the gunk, as in its current state it becomes undrinkable when not chilled – hardly handy for people who lead an active lifestyle and would like to take their lunch on a hike away from refrigeration facilities, as this hack discovered.
Though our week with Soylent has lessened our initial crushing cynicism, we'll wait for the results of sustained academic study before we pass judgement on it as an actual meal replacement. On the other hand, we've just spent a week on it and didn't lose weight, didn't go crackers, and haven't felt hungry (though we did lust after typical food).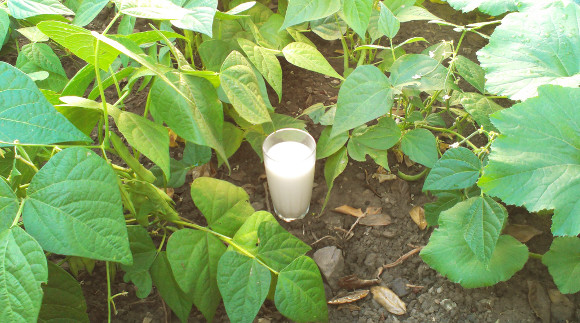 A glass of Food 2.0 intimidating Food 1.0
We even found ourselves saving our final portion of it so we could have a quick breakfast smoothie on Friday morning in Oakland, California. But when we snapped a photo of it amid our beans and zucchini (pictured), we found ourselves depressed by the image of this amalgamated slop against the weird wildness of, you know, actual grown food.
If anything, our personal problem is less with Soylent the product and more with the bleak message it carries within itself – here is a product that exists because people are time-poor, unable to access cheap organic foodstuffs, or have been failed so badly by their education system that preparing a quick, healthy meal can seem more like a chore than one of life's essential pleasures.
Soylent may work as band-aid for a person's punctured diet, but it's really the food system that needs fixing. Though with a name like Soylent you wouldn't expect otherwise, would you? ®