This article is more than 1 year old
6Gbps is for FOOLS! Now THIS is what we call a SAS adapter - LSI
Go-faster flashy app fix
LSI has begun shipping its first 12Gbps SAS adapters for storage arrays, servers and workstations, doubling the prevailing 6Gbps SAS data rate.
LSI's SAS 9300 HBA (Host Bus Adapter) runs at 12Gbit/sec, delivers over 1 million IOPS through a PCIe 3.0 connection to hosts, and comes in four versions:
9300-8e with 8 ports
9300-8i with 8 ports
9300-4i4e with 8 ports
9300-4i with 4 ports
Maximum throughput is claimed to be more than 6Gb/sec when streaming. Each HBA uses either an LSI SAS 3008 or 3004 controller, has the SAS 3.0 standard-specified mini-SAS HD connectors and their low-profile form factor supports 8 PCIe 3.0 lanes.
Page 6 of LSI's Storage Adapter Guide (pdf) lists various characteristics of the 8i, 8e, 4i-4e, and 4i models.
We envisage that LSI will bring out a 12Gbit/s SAS switch to follow on from its 6160 SAS 2.0 switch product.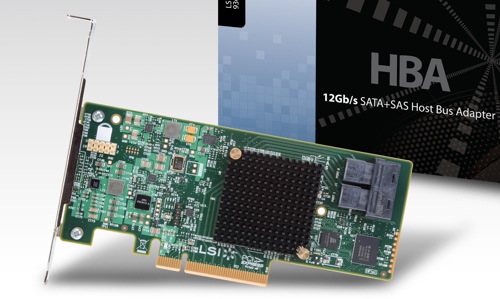 LSI SAS 9300 HBA which runs at 12Gbit/s
Pricing starts from $245 for a single 9300-4i and all the products are available now. If your apps are hung up on 6gig SAS connectors not being fast enough, then here's one route out of that trap. ®