OECD: Don't bank on wireless for comms futures
Biennial Outlook doc calls for more competition, faster IPv6 adoption and lower prices
The Organisation for Economic Co-operation and Development (OECD) has published its bi-ennial Communications Outlook and suggested the communications industry – and governments that regulate it – still have plenty of work to do in order to secure growth and serve customers.
China, India and Russia are absent from the OECD's 34-member roster, so the Outlook is therefore far from global in outlook. Yet the OECD covers most of Europe and North America, and plenty of other nations where telecommunications industries are either mature or heading there fast, so the 320 pages between the Outlook's covers offer plenty of insights.
The organisation says the key insights in the document, which reports on activity between 2010 and 2012, as are follows:
Telephony costs have continued to fall, except for fixed business lines
Data costs are falling, but some nations still pay scary prices
Smartphones are driving a nice boost in revenue for carriers
WiFi networks and the wired networks they link to are doing the bulk of the work to bring data to smartphones
Convergence is real: internet is now carried over LTE and video is carried on the internet, just two examples of how channels are collapsing
The study also identifies several "emerging issues", migration to IPv6 among them because it isn't happening fast enough and that makes life hard for would-be market entrants.
Tension between wired and wireless also poses thorny issues, as explained in this extract from the report's executive summary:
"Limited spectrum and the increasing demand for data services mean that mobile networks will strive to offload traffic to fixed networks. Policy makers and regulators need to ensure enough supply to maintain sufficient backhaul for wireless networks, especially if there is insufficient fixed access network competition. While there is debate as regards the schedule for fibre-to-the-residence, all agree that network operators will continue to bring this technology closer to residences and end users. The challenge for regulators is that, regardless of the technology used, many parts of the OECD look likely to face monopolies or duopolies for fixed networks. Wireless can provide competition, but spectrum availability will always impose limits that are not a constraint for fibre."
Just how governments can sort out that technological and regulatory mess is considered on many pages of the documents.
Another very interesting section, Chapter 7, considers the OECD's new "baskets" of telecommunications services across its member states. The data is too dense and results too numerous to summarise neatly, but suffice to say UK readers will be pleased to see their nation often listed among the cheapest for wireless data services. Readers in the USA will have cause to feel aggrieved. Australian readers will wonder why their prices are climbing.
Chapter 8 will also tantalise, as it offers analyses of what households throughout the OECD spend on communications services and IT kit, and the ratio of that spend compared to other goods and services.
The graph below displays that data.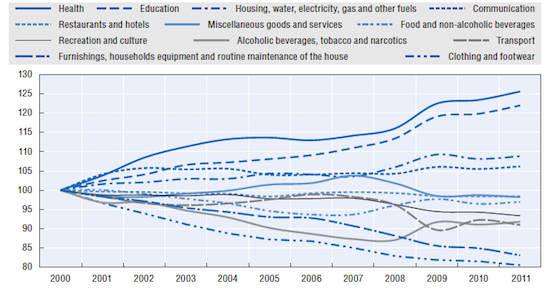 The Outlook is available to read online or purchase here. ®