Dumpsters begone! App matches diners with leftovers to broke, hungry
What could possibly go wrong? Swarming gendarmes, for one
Hungry? Broke? Soon you'll be able to fire up your smartphone and find out if anyone in your immediate area hasn't been able to finish their meal, then drop by their place and spirit away their leftovers.
Yum.
"It's obviously not for everybody," says Dan Newman, the cofounder of the group developing the app that will facilitate this transaction. "But for as many people who seemingly have a problem with it, there's people who love the idea."
Newman and his cofounder, Seattle programmer and former University of Michigan roommate Bryan Summersett, are developing an app they call LeftoverSwap that matches the hungry with the surfeited.
If you're the latter, you take a photo of the food you're just too stuffed to finish, and post it on LeftoverSwap. If you're the former, you survey the offerings in your immediate area, choose what tempts your palate, then suggest a goods or service swap (minds out of the gutter, please) or simply offer to take that leftover Shaomai or Char siu bao off their hands.
Drop by. Exchange. Eat. Simple.
Newman and Summersett aren't in it for the money, or even to help the pecuniarily challenged – their concern is environmental. "There's a bunch of studies about how much more food we need to produce for the world population by 2050, and how fertilizers are less effective," Newman told NPR, "and our current rate of producing food isn't going to suffice. Meanwhile, in the US we produce so much more food than we consume and so much is going to waste."
As LeftoverSwap explains on their website:
40% of the food we produce goes to waste.
25% of us don't know our neighbors' names.
70% of us are overweight.
16% of Americans lack enough food for a healthy lifestyle.
99% of us don't need a second helping of the beef lo mein.

LeftoverSwap solves all of these problems.
Or, as they also say, "With LeftoverSwap, there's less waste and fewer people picking through dumpsters: a win-win."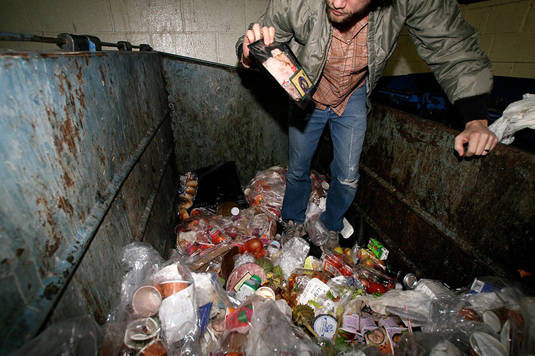 Why dumpster-dive when fresh hot leftovers are only as far away as your smartphone?
You do have a smartphone, don't you, homeless guy?
Maybe so, but Newman and Summersett may not have thought this through quite thoroughly enough. After all, as SF Weekly points out, it's ilegal in San Francisco – and elsewhere, presumably – to sell food without a permit. Leftovers in specific are a health hazard, S.F. health department exec Richard Lee says.
Or, as the SF Weekly puts it – with more than a soupçon of class-based disdain, "Even if it came from the cleanest, best-inspected restaurant in San Francisco, it could still have been handled by some grubby hipster with no hygiene standards."
And forget about getting around the health department's restrictions by giving leftovers away rather than selling or trading for them. As the activist group Food Not Bombs, which has faced legal problems in San Francisco and Venice, California, Tampa and Orlando, Florida, and elsewhere has discovered to their politically motivated dudgeon, being gustatorily magnanimous without proper permits can land you in the hoosegow.
You can sign up to be notified when LeftoverSwap is ready on Newman and Summersett's website, but be forewarned: should you offer that extra White Castle slider to the world, we advise you to do it on the down-low, or you may find the food police a-knock-knock-knockin' on your front door.
And no, we don't mean Alice Waters, Emeril LeGasse, or Thomas Keller. ®