Samsung is reportedly bringing back the flip phone, adding Android and a pair of 3.7-inch touch screens to a form factor popular in the first GSM phones of the mid-1990s.
Japanese blog Ringer's Blue Men spotted a manual (PDF) for the new handset. Dated July 2013 and labelled version 1.0, the manual leaves no doubt it's an Android beast, mentioning several Google services in English and, on page 45, including the operating system's distinctive "draw your unlock pattern" logon screen.
The phone's reportedly called the "Galaxy Folder".
That the manual is in Korean is notable, as Samsung has kept the clamshell form factor alive in China but has not bothered bringing it elsewhere. That this new phone will be sold in Samsung's home market is a sign the company feels some extra product differentiation is required to reach and satisfy some market niches.
That satisfaction will probably come in the form of a vanilla Android experience through a 3.67 inch, 800x480 AMOLED touch screen on the outside of the clamshell, a size and resolution that puts it firmly in the mid-market. Just what's on offer inside is a little more mysterious. As the illustrations we've assembled from the manual show, when flipped open the phone offers a numeric keypad and eight-way controller with central button. We do know there's 2GB of RAM, an LTE radio, WiFi and a 1.7 Ghz Snapdragon 400 Dual Core under the skin.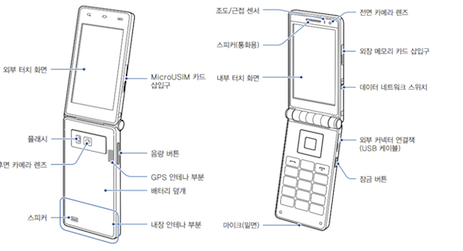 There's nothing in the manual to suggest a second interface for the internal screen, but it seems odd to suppose it is a touch screen given the presence of the old-school controller.
There's no word on whether Samsung plans to sell the phone beyond Korea. ®
Similar topics