Pic Neanderthals were just as good at working leather as modern humans - and used the same tools still employed by leather-workers today - a new study has found.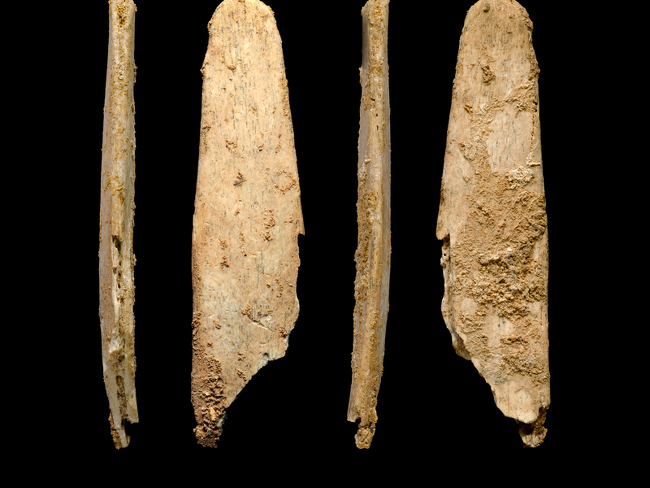 Four views of the most complete lissoir found during excavations at the Neandertal site of Abri Peyrony. Credit: Abri Peyrony & Pech-de-l'Azé I Projects
Anthroboffins from the Max Planck Institute for Evolutionary Anthropology in Leipzig and the University of Leiden in the Netherlands have discovered evidence of interesting bone tools in neighbouring Paleolithic sites in southwest France.
The digs uncovered equipment that was used more than 40,000 years ago to make hides more lustrous and water resistant. Boffins previously believed that the tools, called lissoirs, had only been used by modern humans, but the finds suggest humans and Neanderthals may have developed the implements independently. It's even possible that humans got the idea from the Neanderthals, which are considered a separate species from homo sapiens.
"If Neanderthals developed this type of bone tool on their own, it is possible that modern humans then acquired this technology from Neanderthals," Marie Soressi of Leiden University said. "Modern humans seem to have entered Europe with pointed bone tools only, and soon after started to make lissoirs. This is the first possible evidence for transmission from Neanderthals to our direct ancestors."
Another possibility is that modern humans got to Europe and started interacting with Neanderthals earlier than previously thought, which only further finds will help to answer.
The boffins first located small scraps of bone that weren't immediately recognisable as leather tools before putting the pieces together.
"When you put these small fragments together and compare them with finds from later sites, the pattern in them is clear," Shannon McPherron of the Max Planck Institute said.
"Then last summer we found a larger, more complete tool that is unmistakably a lissoir like those we find in later, modern human sites or even in leather workshops today."
While evidence of Neanderthals using bone to make tools has been found before, the design of the lissoir implements is unusual.
"Neanderthals sometimes made scrapers, notched tools and even handaxes from bone. They also used bone as hammers to resharpen their stone tools," McPherron said. "But here we have an example of Neanderthals taking advantage of the pliability and flexibility of bone to shape it in new ways to do things stone could not do."
The full study, Neanderthals made the first specialised bone tools in Europe, was published in the Proceedings of the National Academy of Sciences. ®