This article is more than 1 year old
Autogyro legend Ken Wallis hangs up wings at 97
RIP, father of Little Nellie
Wing Commander Ken Wallis, who soared to international fame at the controls of James Bond's Little Nellie, has died at the age of 97.
The former RAF Wellington bomber pilot passed away at his home in Norfolk on Sunday, the end of an illustrious career which saw him set the 3km speed record for autogyros (207.7km/h), and - most famously - battle Blofeld's flying minions at the controls of 007's autogyro in You Only Live Twice.
His eldest daughter Vicky Wallis told the Eastern Daily Press: "He had great long and successful life. He died peacefully at 3am on Sunday and I was at his bedside.
"He led a wonderful life and I'm sure most of us could only hope to live for so long and to fill our time with so many experiences and achievements. He will be greatly missed by his family and more widely."
Wallis was born on 16 April 1916 in Ely, Cambridgeshire, and showed an early penchant for garden shed engineering by building his first motorbike at the age of 11. Having cut his aviation teeth on the homebuilt Flying Flea, he then graduated to RAF duties at the controls of the Westland Lysander, and subsequently the Vickers Wellington.
The Cold War saw Wallis seconded to the US Air Force for two years, where he flew nuclear-armed Convair B-36 Peacemakers, but it was his interest in the Fairey RotoDyne and Bensen B-7 "Gyro-Glider" which led him to design an autogyro rotor head that allowed accurate blade pitch control without the risk of the aircraft cutting off its own tail.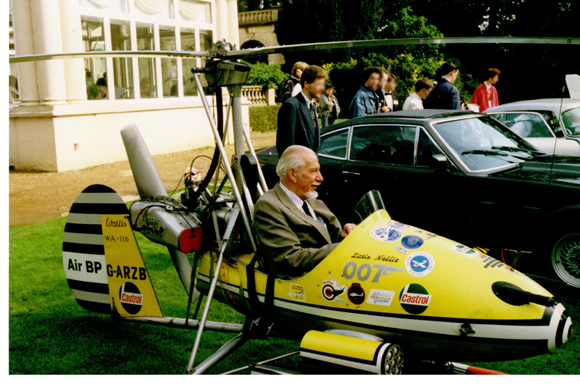 Little Nellie with her creator, Ken Wallis, at the controls.
He subsequently demonstrated his WA-116 autogyro's capabilities to great effect in You Only Live Twice, noting: "I think it was a good film. People say it must have been fun to film but it was 85 flights and 46 hours in the air to make seven minutes on screen."
Wallis continued to demonstrate The Right Stuff into old age, as this video - which bears testament to his skills as a pilot - shows:
Wing Commander Kenneth Horatio Wallis MBE, DEng, CEng, FRAeS, FSETP, PhD, RAF (Ret'd) died peacefully in his sleep on September 1 2013. ®