Two thin-toed tracks made more than 100 million years ago are proof birds wandered prehistoric Australia, according to palaeoboffins.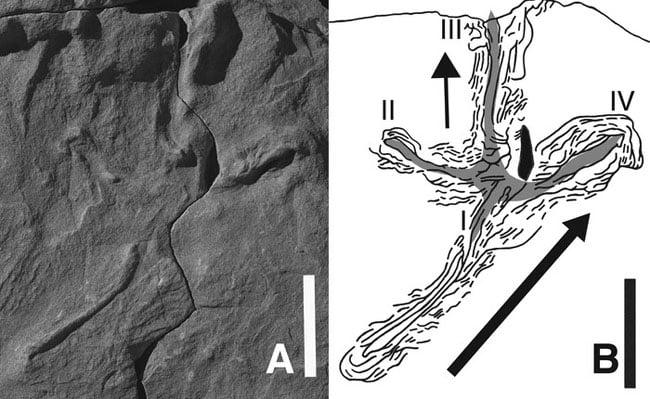 Photo of the sandstone fossil along with a drawing illustrating the track. Credit: Anthony Martin
Emory University palaeontologist Anthony Martin spotted that the impressions in a fossil found at the aptly-named Dinosaur Cove on the coast of Victoria had a telltale fourth toe, making it more than likely that the creature that left the print was a bird.
"The track seemed familiar, like a face I had seen before but couldn't quite identify," he said in a blog post describing the find. "Then I realised who it belonged to, and where I had seen many others like it. It was a bird track, remarkably similar to those in the sands and muds of the Georgia coast, made daily by the herons, egrets, and shorebirds."
While both birds and dinosaurs could be responsible for a three-toed footprint, there were very few lizards with a backward-facing fourth toe, called a hallux, used by birds to grab onto branches when landing. Any dinos that did have the hallux usually had an elevated vestigial one, which wouldn't show up in a print.
To add to the evidence, the hallux had left behind a long gouge, like the bird had made the mark when coming in for a landing on sand.
"Based on my years of experience with Georgia-coast bird tracks, the qualities of this fossil track were consistent with those in tracks made by similar-sized birds – such as small herons or egrets – that landed after flight," Martin said. "Ichnologists call such traces volichnia ('flight traces'), which are rare in the fossil record, but abundantly represented in soft substrates today wherever flying birds might live."
The fossil, a slab of sandstone, also contained two other prints, another with a hallux and one without, suggesting that two birds and a small dinosaur had all left their marks in the same spot. Because wet sand dries so quickly, the footprints would have to have been made very close to each other, possibly even on the same day, so the dino and the birds must have shared the same ecosystem.
The slab was originally found by volunteers from the Museum Victoria, Sean Wright and Alan Tait, who were out looking for more of the dinosaur bones that led to the cove's name.
Martin and his colleagues published their study, "Oldest known avian footprints from Australia: Eumeralla Formation (Albian), Dinosaur Cove, Victoria", in Palaeontology. ®
Similar topics