Bell Labs is predicting that content caching close to users plus continuing deployment of new data centres is going to skyrocket between now and 2017.
Of course, Bell Labs has a certain amount of conflict-of-interest here, given Alcatel-Lucent's position in the networking market. However, some of its suggestions seem to make sense. If we look at how giants like Google structure their networks – along with the decade-old growth of content distribution networks – the long-term trend has been to aggregate content closer to users, to cut down both on latency and spend on expensive international links.
In the US at least, Bell Labs believes, metro traffic is going to skyrocket by 560 percent over the next four years, a rate of growth it says will be double that of backbone traffic – and the drivers will be the combination of video consumption and data centre traffic.
Most of that growth, the company believes, will stay in the metro area – 75 per cent – with only 25 per cent heading upstream, and that's because of the caching practises already in place. Right now, only 57 per cent of traffic stays within the metro area. Even more caching closer to users could also help keep a lid on metropolitan area traffic growth, Bell Labs says.
While Bell Labs expects mobile traffic to continue growing, the constraints on mobile networks, along with users' propensity to offload traffic to cheaper fixed connections whenever they can, means that fixed networks will still be the engine-room of traffic growth for the foreseeable future.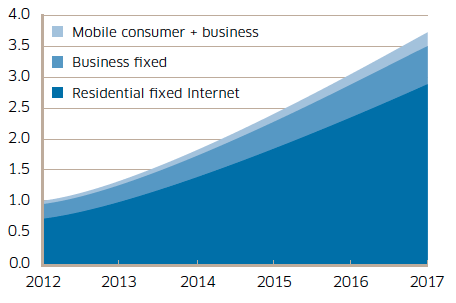 Total metro traffic by 2017 will be nearly quadruple 2012, says Bell Labs,
but mobile will remain a small proportion of the whole.
The Y-scale shows multiples of 2012 traffic.
The most important assumptions of the study seem to be conservative enough: that video caching and data centres will continue to be centralised within the metro areas they serve; that the number of metro areas in the US with data centres deployed in them grows by 10 to 20 per cent each year; and that between now and 2017, the raw number of metro DCs will rise by 60 per cent.
The growth in data centres, along with the economic drive to localise traffic where possible, will mean that inter-DC traffic will rise by 440 per cent by 2017, the Bell Labs says – but at the same time, metro video traffic (including both Internet deliver and Pay TV) will shoot up by 720 per cent.
The study, along with a pitch for Alcatel-Lucent's metro Ethernet kit (surprise, surprise), is linked here. ®