This article is more than 1 year old
KER-CHING: Backers hand Nutanix $101m
Converged server/storage bods likely looking to exit soon
Converged server/storage startup Nutanix has shown it has the product and business execution goods, prompting its backers to give it $101m to light the rocket fuel and get company lifting off.
Nutanix has been a Harvard Business School textbook example so far in how to start up and grow a company to the point where it has a product customers want, working business processes, and an effective initial sales channel. These have been set up during three funding rounds:
a $13.3m A-round in July 2010,
a $25.3m B-round in August 2011 and
a $33m C-round in August 2012.
That's a total of $71.6m. Now the backers are loading the company up with business expansion funding of another $101m, likely hoping for a profitable exit in, we imagine, 2016. The chart shows the sudden funding expansion graphically: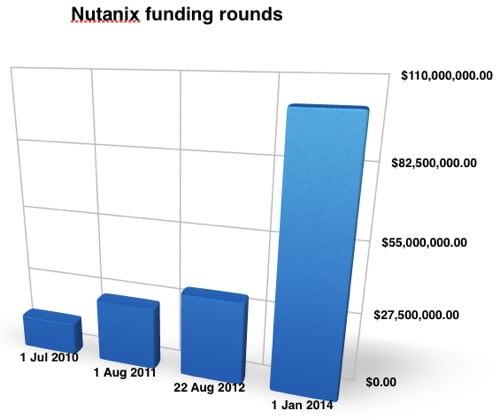 Nutanix says the extra cash will be used "to accelerate its global expansion, boost investments in research and development, expand its service delivery capabilities, and grow its sales, marketing and support teams." That means a big channel expansion, among other things.
The product is a scale-out server + hybrid storage design - think Nimble or Tegile with servers - and the company claims it has a high rate of repeat purchases. The main selling points for the devices are their relative low cost, power, expansibility and simplicity compared to separate server and storage products.
A third of the firm's business comes from outside the US already so the international sales groundwork has already been done. It looks like Nutanix is becoming a force to be reckoned with, not least by Dell, EMC, HDS, HP, IBM and NetApp. ®