'You win, Kanye': Coinye creators throw in towel after rapper sues
This time, Kanye West is not gonna let them finish
The short and turbulent life of Coinye, the digital cryptocurrency named after rapper Kanye West, has come to an end.
The virtual currency, which launched earlier this month under the name Coinye West, has closed up shop, apparently as a result of legal pressure from the vainglorious rapper.
"We're really not sure how Kanye is gonna react to this," Coinye's creators said at the time of its launch. "We hope he loves it, but if he doesn't, he really isn't someone we want to piss off."
Indeed. Mr. Kim Kardashian's lawyers reportedly came calling not long after word of his namesake currency went public, serving Coinye's developers with a cease-and-desist letter that accused them of unlawfully appropriating West's name and likeness.
At first, the Coinye crew seemed to be taking the real Kanye's threats in stride. In response to the rapper's letter, they dropped the "West" from the currency's name and changed its mascot from a likeness of West to a cartoon of a half-man, half-fish character – albeit one that still bore more than a passing resemblance to West.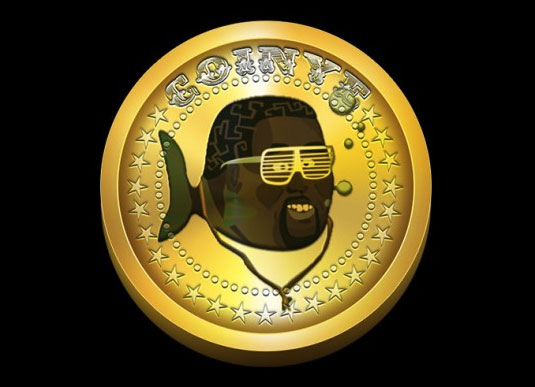 Still too close a likeness, it seems
"I do not see that there is a likelihood of confusion between the Trademark set forth by your client Kanye West and those being presented by under the Meme Crypto Currency Coinye Coins ('The Gay Fish')," the Coinye team wrote in a snarky letter to West's lawyers – the "Gay Fish" aside being a reference to an episode of South Park that parodied West as someone too egotistical to admit when he doesn't get a joke.
But the only thing more humorless than Kanye West, apparently, is his legal team. On Tuesday, the New York Post reported that West's lawyers filed suit against Coinye's creators in a New York federal court, alleging trademark infringement.
A week ago, Team Coinye claimed to be digging in for a fight with West. "We want to release this to the public before the man can try to crush it," a representative of the project told The Wall Street Journal. "They'll still come after us, but that's OK."
But as of Tuesday, the Coinye creators appear to have raised the white flag. The former Coinye website has been replaced with the message "Coinye is dead. You win, Kanye" above a graphic that reads "Pool's Closed," while another site that purported to be building an online exchange for the currency appears to have been taken down.
West's lawyers have not said whether they still plan to pursue their suit in light of the offending currency's apparent demise. ®