DataDirect Networks is in a hole. Can its founders pull it out?
Reg sources say revenues down and execs have left
+Analysis DataDirect Networks is struggling, The Register hears, with declining revenues and departed execs. Seagate buying Xyratex is the latest competitive threat and the firm is said to be retrenching its core HPC business.
DDN denies this and, coincidentally, has recently hired itself a chief marketing officer for the first time, one Molly Rector.
DataDirect Networks is a substantial - 600 staff - storage startup which makes and sells high-performance storage arrays for the supercomputing, high-performance computing (HPC), object storage and big data enterprise markets. It is technologically astute and announced its Infinite Memory Engine technology in November, aimed at the supercomputer/HPC market.
What we have heard from an experienced storage source in Silicon Valley is that troubles are mounting at DDN and it is finding it hard to be profitable in the face of competition from significantly larger companies, such as NetApp with its E-Series (Engenio) storage arrays.
Seagate's purchase of Xyratex, with its ClusterStor HPC array technology, will only worsen this situation.
We hear that 2012 revenues were $300m plus but 2013 revenues are 30 to 40 per cent down on that, at $200m or less.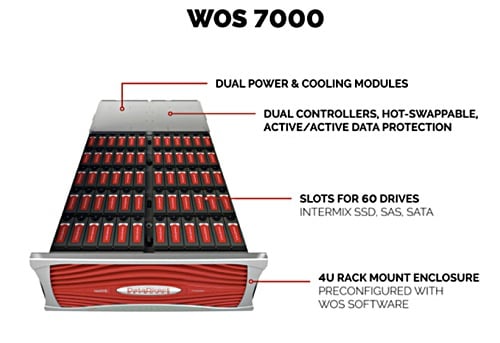 DDN WOS 7000 array.
Our source says that DDN has already had two layoff rounds and another may be imminent, with likely presentation as getting rid of poor performers.
The company has lost its industry leadership position with the Open Scalable File Systems (OpenSFS) nonprofit. It was originally a "promoter" member and influential on the "board". Now they have fallen back to Adopter member status and are no longer on the board. This, we hear, reduced their annual dues by around 90 per cent.
We understand six senior executives have left in the last few months:
Laura Thommen, VP sales for cloud, content and media, who we are told left in July and joined Melrose Tec
COO, Erwan Menard, left in August 2013, joining Scality as COO in January
SVP of worldwide HPC Sales, John Josephakis, left in September and joined Cray
Board member and President, Joe Cowan, left in October "to pursue other interests"
Board member John Dorman, who was appointed president in October 2013. We understand he left the role in December, ceding it to Paul Bloch
VP of Software Engineering, Dan Maslowski, left in November.
VP of Marketing, Jeff Denworth, left this month, January 2014, with Molly Rector replacing him (albeit with a new job title).

IME block diagram
Now co-founder Paul Bloch is now listed as DDN's president. Bloch's business networking profile says he was a DDN president from 1998 to March 2013. It looks as if, after a brief interruption, he's back as president again.
DDN says ...
We asked DDN about this and Denworth said:
Revenues were south of $300m in 2012.
Revenues were north of $200m in 2013.
58 people were let go in 2013 when there were 550 employees
They closed 2013 with 600 employees
Revenues in 2012 were boosted by a really large web customer who bought less from them in 2013. It was the largest revenue year in DDN's history.
WOS continues to be DDN"s second largest engineering investment in 2014 and WOS and Hadoop will converge this year.
The Lustre situation stabilised in 2013, when DDN saw Xyratex's purchase of Lustre assets from Oracle. Lustre is now stable and DDN clearly doesn't need such a high-level involvement with OpenSFS any more.
DDN stated that, in 2011, it had revenues of $226m and 600+ staff.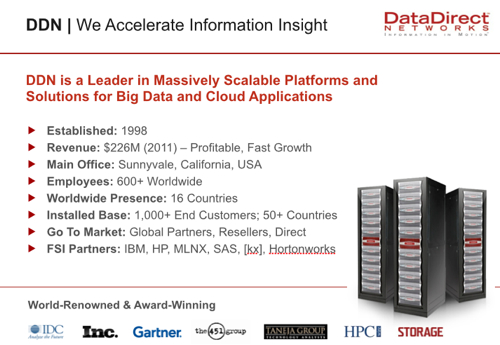 DDN revenue and staffing in 2011.
In 2013 Alex Bouzari stated in a cNBC interview that: "Our revenue run rate is approaching $300m."
Here we are in early 2014 and DDN revenues seem to be back to 2011 levels ($220m or so). The company's revenue growth curve appears to be saw-tooth in shape with 2012 being an upward line and 2013 a downward one. What will happen this year? We can easily imagine that Bouzari and Bloch will want it to swing back up.
Marketing bod Denworth exits
Jeff Denworth, recognised as a highly intelligent communicator with an ability to present situations positively, is now leaving DDN (entirely amicably we should stress) and Molly Rector is becoming DDN's chief marketing officer (CMO): a role which she had at SpectraLogic, her previous employers. The last major marketing initiative at SpectraLogic involved Black Pearl appliances and a way of storing objects on tape, giving Rector object experience.
Bouzari was quoted in the release about her appointment: "Her success in enabling technology companies to integrate their marketing and sales efforts to achieve maximum results, while disrupting the competitive landscape and delivering a great customer experience is well regarded."
On your marks Molly, ready, get set ... GO!
Analysis
What strikes us as curious here are two things. If we view the COO and president's positions as being roughly the same, then DDN has had four president/COO officers in one year and that indicates a level of turmoil ranging from decidedly unfortunate to something worse.
Secondly, two recent chief operating officers, Cowan and Dorman, were long-term DDN board members. Generally board members are people who have moved on from executive management positions. Generally, again, senior executive positions are filled by recruiting executives already doing the job in another company or up-and-comers, not the mature ex-execs who are given another crack at the whip.
One possibility is that the two were put in place to hold the fort while attempts were made to sell DDN, possibly to Cray, but this is just a possibility – and, of course, no one at DDN will give such an idea presented by us any credence at all.
Another possibility was that an IPO was being prepared, the revenue fall made it a struggle and it was eventually canned but, again, DDN wouldn't be expected to talk about such a thing with us.
Getting back to the overall number of senior departures, we're told Paul Bloch and co-founder Alex Bouzari had previously installed the above management team and then taken a back seat. But management team members have left and Bloch has had to return, we hear, to help save the company. That's one possible way to look at it.
Our source said that WOS Object Store and Hadoop engineering efforts have been redirected to support the HPC business. Also that DDN's future is focused on IME Burst Buffer but that perhaps the market is as small as half dozen large labs in 2016.
It seems obvious that the two men driving DDN are its co-founders, Alex Bouzari and Paul Bloch. Bouzari is CEO and chairman and Bloch is a director and president. They started the company in 1998 and, fifteen years later, are still actively running it. DDN is self-capitalised, with no VC investment nor, therefore, VCs on the board, hungry for a profitable exit.
Bouzari was CEO of Personal Writer Inc, 1986 - 1988, and a co-founder and president of MegaDrive Systems Inc. from 1988 to 1998, where Bloch was also president. He was also a co-founder and board member of Whamcloud.
DDN is Bouzari and Bloch's baby, their very own toy. They will not, and need not, relinquish control and there is nobody around who can tell them to. DDN has no people on its board with equal or larger stockholdings than them who can suggest and advise different courses of action – at least, not with any authority.
It is effectively a closed shop run by two seasoned, experienced, hands-on and clearly self-sufficient founders who are not ready to move on. They have done great things with DDN, expect great things from their staff, and more great things are possible, but ... competition is gathering. It generally does. This is normality in the storage technology business.
The chances are DDN will grow through it, perhaps with another cut-back or two and perhaps with some more management changes; the founders want a lot from their execs. That seems to be Bouzari's and Bloch's way of doing things. It's worked for them in the past and, unless there are big problems we don't know about, there's no reason to suppose that it won't work for them in another run round the block. ®