Slow'n'steady: NetApp's revenues flatline while profits increase
Customers fleeing to the cloud will "depress" the industry, reckons CEO
Coping crisply with slowing growth, NetApp's latest quarterly revenues declined year-on-year but its profits rose as a slowing storage market left it living in interesting times.
It recorded revenues of $1.61bn in the quarter, compared to $1.63bn a year ago, a 1 per cent drop. Back in 2013 profits were $158m; for the quarter just ended they were $192m.
The previous quarter's revenues were $1.55bn with profits of $167m, so NetApp has grown in both measures, quarter-on-quarter.
Part of the reason for the profits growth is the continuing upgrade by NetApp's customer base to Clustered Data ONTAP, the latest version of NetApp's array operating system. Clustered Data ONTAP node shipments were up almost 300 per cent year on year.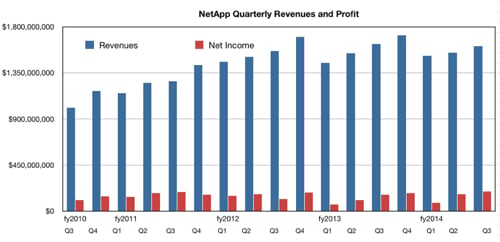 Click the chart to embiggen it.
Taking the mid-point, full fiscal 2014's revenues should be about $6.35bn; almost the same as last year's $6.33bn and a little up on fiscal 2012's $6.23bn. On the annual revenue measure, NetApp is an almost no-growth company; it's pretty much flatlining.
The stock price dropped 2.5 per cent to $42.59, at the time of writing, after these results came out.
What did the company say about the slowing storage market and flatlining revenues it is seeing?
In the earnings call CFO Nick Noviello said: "Branded revenue was below our expectations for the quarter, driven solely by a shortfall in US federal business. OEM revenue dollars were flat from Q2, as expected, and down 23 per cent year-over-year."
He described the revenues from a geographic viewpoint: "From a geographic perspective, total Americas revenue was down 5 per cent year-over-year. Americas Commercial revenue was down 3 per cent and US Public Sector revenue was down 13 per cent, driven by downward pressure in federal IT spending. EMEA and Asia-Pacific revenue each grew 3 per cent on a year-over-year basis."
Storage revenues disease
But these are symptoms this quarter of the slowing storage revenues disease which NetApp is suffering from. What did it say about the disease?
Noviello talked of "this challenging IT spending environment" which "will continue." CEO Tom Georgens focussed on the positives, saying: "NetApp has established a market-leading position in flash and converged infrastructure and offers a differentiated approach to cloud and software-defined storage. Customers continue to adopt our latest innovations, confident in our strategy will help navigate this transition and position themselves well for the future."
He added:
Clearly, we're in a low growth environment.
He talked of NetApp having "more products early in their lifecycle than ever before and continue to drive platform competitiveness with the solutions in our upcoming announcement."
That's a hint of the coming FAS8000, and Georgens went further: "We will soon be introducing our first generation of cluster-optimised FAS platforms, enabling customers to deploy a wider range of performance, availability and capacity options or seamlessly manage the clustered ONTAP."
Slowing growth and the cloud
Georgens talked of customers being reluctant to decide on purchases quickly.
"I think in the advent of cloud and FAS and new technologies, there's elongated decision cycles, because people don't want to make bets on technologies at a long term in nature that they're going to regret in a few years," he said. "So there is no doubt that particularly in a cloud, I think it's slowing down decision cycles as people really slowed on how they can realistically deploy it in their environment."
"Is it any different than prior quarters? I think it's certainly a relatively new development," Georgens added. "I would say it was dramatically different this quarter than prior quarters. But you definitely see it is that customers are somewhat reluctant to make very, very long-term commitment for rapidly changing technological environments."
It's the cloud, all the cloud, that darned cloud, according to Georgens: "I think server side flash is much less of a factor, but I think the cloud is clearly the big disruptor in people's minds. And there's no doubt that their workloads make sense in the cloud."
Just to hammer the point home, he declared:
Our point of view is that we're not going to deny that data has gone to the cloud. So I believe that will depress somewhat the growth rate of the industry.

Is the cloud a factor? Sure. Is the cloud mainstream? No, it's not. And I think the one that enables customers to make it mainstream is going to be the winner in this race.
New customers and/or products needed
Overall NetApp is transforming its ONTAP FAS arrays and software for the cloud and so ensuring existing customers are happy. It's also wringing more profits out of its customers, which is good. We think NetAp is hoping that its all-flash arrays and cloud-focussed product developments will eventually help it grow faster. But there is no immediate relief: witness the outlook.
Will it break the $7bn/year revenue barrier? Maybe in 2017/18 at current growth rates.
Georgens is positive about the future. "If you look at the market share numbers, I think the team feels like we're winning ... It's a jungle out there and I wish we had one topline growth to show for it. But I think we're doing the right things. I think we're winning against any competitors."
NetApp needs new customers and new products for existing customers to start growing significantly again and neither appear to be coming around the corner any time soon, unless the FlashRay all-flash array turns out to be a killer product.
It is a mature, carefully and cautiously managed company with a shrewd eye on what its customers need and an ability to develop and transform its existing product sets to meet those needs. Overall we could say it isn't that dynamic, compared to, say, EMC – but it is impressively thorough. ®