This article is more than 1 year old
The land of Milk and Sammy: Free music app touted by Samsung
Ad-free streaming service to milk massive mobile market
Seeking to capitalize on its dominance of the Android smartphone market, Samsung has launched a free online streaming music service in the US that's only available to owners of its Galaxy-branded mobes.
Just why the service is called Milk Music is hard to fathom. But it's powered by Pandora competitor Slacker Radio, it has 13 million songs in its library, and it offers more than 200 channels of music curated by "top DJs and industry pros," all delivered free of charge to Samsung customers.
There's even a "Spotlight" feature that promises selections "handpicked by music tastemakers and influencers."
"Milk Music introduces a fresh approach to music that reflects our innovation leadership and our focus on creating best-in-class consumer experiences," Gregory Lee, Samsung's North America president, said in a canned statement.
This isn't the first time that Samsung has used music as a lure for its Android phones. In 2013, the chaebol bought a million copies of Jay-Z's Magna Carta Holy Grail to give away for free via an exclusive app, making the album an instant chart-topper despite receiving mixed reviews from critics.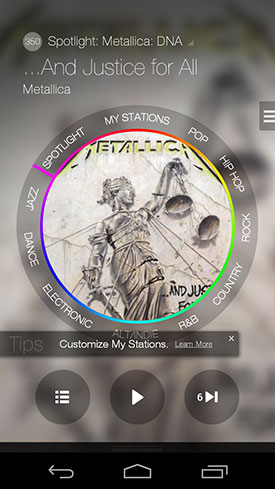 Turn the dial, pick your station – in the US only
For now, the South Korean firm is similarly advertising its streaming radio service as being ad-free, although the tiny type below the asterisk on its website advises us that this is only "for a limited time."
The Milk app, which is downloadable from the Google Play store beginning on Friday, uses a unique "dial" interface that lets users browse music channels by genre, and it syncs with a Samsung account so that users' preferences and listening history can be shared across multiple devices.
According to Samsung's press release, the app is officially compatible with the Galaxy S4, Galaxy SIII, Galaxy Note 3, and Galaxy Note II handsets – and it will be available on the Galaxy S5 in April – but your Reg hack was also able to install it on an older Galaxy Nexus mobe, so as they say, your mileage may vary. ®