But fear not, there's some actual edible food Chez Lester...
...although given the necessity to vary my diet, I slapped some in the frying pan for a nice breakfast platter of scrambled egg and mushroom: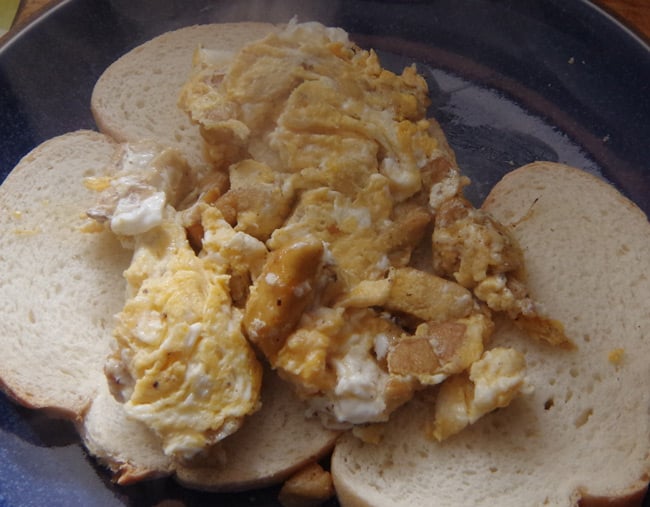 That'll do me
The "no culinary interest" observation comes from the fact that the mosaic puffball on its own doesn't taste of anything much at all. It's perfectly acceptable with eggs, though, and since there are a few more popping up in the vicinity, that's a good result.
On the subject of foraging, I'm obliged to the reader who pointed out that ground elder shoots are edible. I'll keep an eye out then, although I'm kind of hoping I don't find any.
Ground elder (Aegopodium podagraria), as any gardener who's suffered an invasion knows, is pretty well the most pervasive plant on the planet and will, if left unattended, smother your garden, break into your house and use your credit card to buy thousands of pounds' worth of liquid fertiliser over the internet.
It's a chilling thought, and after you've finished panic-buying triffid repellent online, take a moment to sponsor the El Reg Quid-a-Day Nosh Posse right here.
We're obliged to everyone who's so far chipped in for the benefit of Malaria No More UK, but we can't help feeling readers' wallets could do with a little slimming down, in solidarity with our shrinking waistlines. ®