UK regulator Ofcom has put together a guide (PDF) for how radio spectrum should be used.
It's a mix of a plan and a request for input from the warring factions that use it, but provides a good starting point in the farming process. There is a principle that a new mobile technology appears every 10 years or so, which would put 5G at the end of the 10-year window.
Of course radio doesn't understand international boundaries, so there has to be a fair amount of international co-operation, and the EU has also been canvassing opinions for what should be done with the UHF spectrum band (470-790MHz).
The regulator says it's particularly interested in white space, the sharing of spectrum for different uses and how technology can be used to reduce the interference between those different uses.
When the 1800MHz frequencies were allocated to the mobile operators, a guard band was allocated to prevent interference between mobile and DECT.
This was later found to be too generous, with the hardware being better behaved than expected and the guard band was sold off separately to a number of companies who all received the same 1781.7 to 1785 paired with 1876 to 1880MHz space and were asked to work with each other. Guard Band has not been very well used, but it sounds as though Ofcom is looking to adopt the "play nicely together" principle for other parts of the radio spectrum.
What's where?
The regulator has produced an interesting spectrum map which lets you select either by frequency or usage. It doesn't drill down to which mobile phone operator owns which individual frequencies or allow you to isolate just what the military has – as that would be embarrassing but it's a good overview.
The regulator has identified six priorities for future spectrum management: Mobile data demands, 700MHz, 2.3GHz and 3.4Ghz re-farming, programme-making and special events frequencies, machine 2 machine (aka Internet of Things), and support for the emergency services.
Ofcom says it will consider the potential impact mobile data demands have on other users of spectrum and "will also contribute to international decisions, examine in detail the case for using more spectrum for mobile data, support improvements in mobile coverage and monitor developments towards 5G technology".
It's very likely that a mesh technology will form part of 5G, so getting frequencies right early will be essential for the critical mass a mesh needs.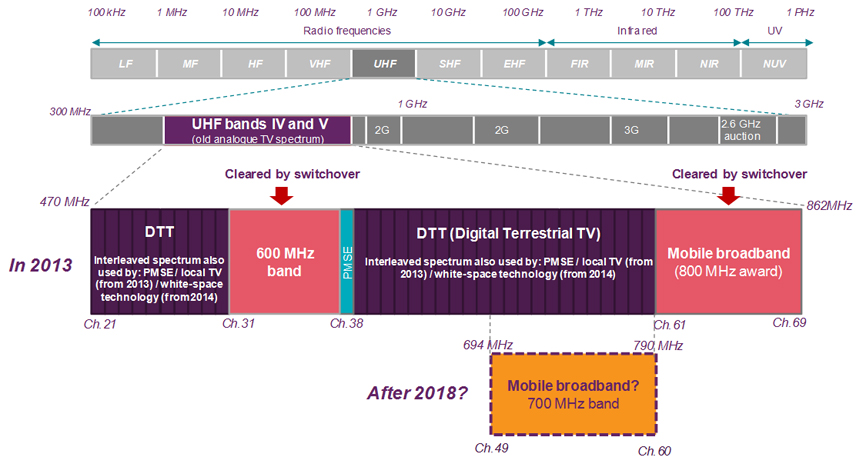 What the plan looked like in 2013...
Rearranging the 700Mhz bands used for Freeview after 2018 could give more spectrum to mobile data. There is a massive 500MHz of bandwidth which will no doubt kerching for the government when it's released by the military. The first of this is in the 4G operating bands 40 and 42, which already has some UK mobile broadband allocation.
While a lot of machine-to-machine will work over the cellular frequencies, Ofcom is looking at licence-exempt options starting with 870-915 MHz band, and says proudly: "The UK is among the first countries globally to release spectrum that can support M2M communications." It even called M2M the "Internet of Things" elsewhere in the document. Ooh, trendy.
Vital comms
Perhaps the most important part of the announcement is that Ofcom is looking at what to do for the emergency services. The planning cycles here are huge, and often tied up with a significant amount of politics. This can be witnessed in the cases of critical comms network Airwave and London Underground's Connect digital radio system. Airwave was rolled out comparatively smoothly in record time by O2. By contrast, the £10bn PPP which London Underground put together with Connect started with proposals in 1998 and still isn't fully deployed – although there is full coverage for emergency comms.
The two are very similar TETRA (terrestrial trunked radio) networks. Unfortunately TETRA is running out of steam and the general industry view is that it will be replaced by LTE. It will however need some changes to the standard to address latency.
Ofcom chief executive Ed Richards said: "As we move to an increasingly digital infrastructure across our economy it is wireless services which offer some of the most exciting opportunities for growth and innovation. Our spectrum management strategy is aimed at ensuring the regulatory approach helps the UK take as many of these opportunities as possible."
Now all broadcasters, public service radio companies and mobile phone bodies will all claim that they should be given the new spectrum, and that it should be free. ®
Similar topics