Autocue extraordinaire Stephen Fry has cheerily claimed new domain registrations "generate new IP numbers which so far show no sign of giving out".
He blogged the explanation while celebrating being the first person in Blighty to sign up for a .uk domain.
Dot-UK registry Nominet has not challenged Fry's latest boob, even though it appears to be using the luvvie as its poster child for the unloved second-level namespace strategy.
Critics have said the new domain names are simply a cynical stab at squeezing more cash out of British businesses.
In a blog post titled "Three Strokes and You're Out" on his website, the host of the BBC's QI quiz show explains to his fans why he is thrilled to have ditched the ".co" from his domain name.
He wrote that he was pleased to be able to shrug off the "extra exhaustion of typing .co.uk". Then Fry dropped this clanger:
The day of .uk is upon us. And team stephenfry.com — as with all things — is proud to be ahead of the curve, or at least cresting it. stephenfry.uk is launched today with a fanfare and an unfurling of the Union Flag. Bear in mind too that if you have businesses with branches in Berlin and Miami, for example, that you will soon be able to own mycompany.berlin and myccompany.miami and so forth.

All these generate new IP numbers which so far show no sign of giving out, despite the billions in use.
For the benefit of Fry and his many followers, here's a quick sketch, QI style, to illustrate the problem.
Vulture: Very good. Right, I'm going straight onto the first question, which is, in fact, very easy. So, fingers on those mushroomoid buzzers, please: How are IP addresses - sorry, IP numbers - allocated and are they finite?
Stephen: No. There are billions in use and they show no sign of falling into the great landfill on the interwebulator Moon any time soon. New ones are made every time someone buys a domain.
*Klaxon sounds and the word "STUPID" flashes on the viewscreens.
Vulture: Oh, Stephen! So early on!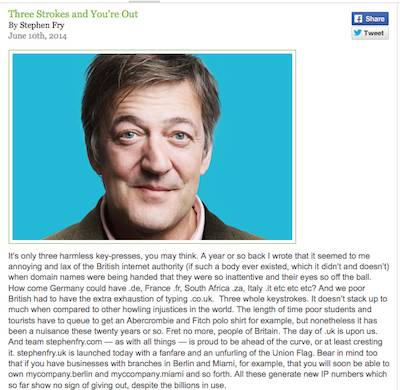 National treasured ... Fry's latest blunder, snapped for posterity
Naturally, we asked Nominet to comment on this story. We wanted to know if it had cleared Fry's blog post without correcting the error. El Reg was also curious to know if Fry had been paid for this particular gig. A spokeswoman at the dot-uk registry told us: "Just to clarify, Nominet didn't pay Stephen Fry and didn't approve the blog post."
IP addresses are allocated globally by the Internet Assigned Numbers Authority, which delegates the task to regional internet registries. IPv4 space is running out, and despite IPv6 having undecillions of addresses, uptake is slow. ®
Similar topics