Intel and the Ford Motor Company have announced a joint effort to equip the automaker's vehicles with cameras – but not ones that will survey the driving environment; instead, interior-mounted eyes will keep their gaze on you and your passengers.
The in-vehicle camera effort comes with a whale of a name: Project Mobii, for Mobile Interior Imaging.
"Our goal with the Mobii research is to explore how drivers interact with technology in the car and how we can then make that interaction more intuitive and predictive," said Paul Mascarenas of the Ford Research and Innovation Ceter in a statement.
Exactly how the info obtained by a digital eye on a vehicle driver is not yet fleshed out. "The use of interior imaging is purely research at this point," Mascarenas said. "However, the insights we've gained will help us shape the customer experience in the long term."
Fleshed out or not, Project Mobii does have some goals in mind. Facial-recognition, for example, could authenticate someone as being an authorized driver of a vehicle. There go car thefts and joyrides.
If an unrecognized driver takes the wheel, his or her picture could be sent to the smartphone of the authorized owner, who would then have the option of giving that driver temporary, limited access to the car and its information systems – the authorized driver's contacts and schedule stored in the system could be made out of bounds, for example.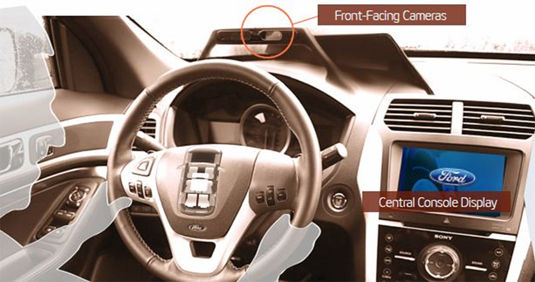 Despite what this photo-illustration suggests, Project Mobii will not vaporize the driver
The same driver-recognition capabilities could also be used to modify a car's capabilities based on who's driving. "If the driver is the child of the vehicle owner, for example," the joint statement proposes, "restrictions could be automatically set to require safety belt use and to limit speed, audio volume or mobile phone use while driving."
Project Mobii's cameras could also send images to a user's smartphone, thus allowing that authorized user "to remotely peer into their car using a smartphone." Meat Loaf's fantasy of "Paradise by the Dashboard Light" just got a wee bit kinkier.
In a blog post, the VP of Intel's Internet of Things Group Doug Davis suggested a somewhat less disturbing use of Project Mobii's remote-view capability. "Prone to losing things?" he writes. "Admittedly, Mobii can't keep you from accidentally leaving items in the car. But Mobii's cameras can help you find them. Simply access the photo feed from your smartphone or tablet to find your stuff (or at least know where it's not)."
In addition to their authentication and voyeurism capabilities, Project Mobii's cameras could also perform gesture recognition, allowing you, for example, to change radio stations or adjust climate controls with a wave. It could also combine gesture and voice control – reach toward your sunroof, for one example, and the system would know that when you said "open" you were referring to the sunroof, and not your car's hood. [Or bonnet, if you happen to be driving a Ford with right-hand drive.—Ed.]
"And if you happen to reach for the navigation console while the car is in motion," Davis notes, "Mobii will gently remind you that's a bad idea, requiring you to speak your destination instead."
Mobii, it seems, is a bit of a know-it-all nag. ®