Fiat Panda Cross: 'Interesting-looking' Multipla spawn hits UK
What the HELL is THAT?
---
Review The new FIAT Panda Cross comes to the UK in September, just in time for a "64" numberplate, and is looking to add a bit of fashion pizazz to the utilitarian nature of the original Panda 4x4.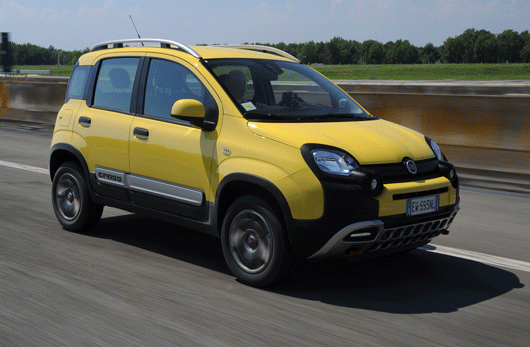 Fiat's Panda Cross: out in the wild but not on sale until September
Everyone agrees on the looks. They are "interesting" and "brave". That's certainly not the same as "good" or "attractive". To my mind they ape those of the Fiat Multipla people-mover, a vehicle which often sported the rear bumper sticker "if you think this looks bad you haven't seen the front yet". It's an organic, aquatic look – but more deep-sea angler fish than mermaid.
Fiat is selling the Fiat Panda Cross as being cool and trendy. It's not aimed at farmers or people who need a 4x4 for work, but more at the Kensington fashion set who want a 4x4 ... that they can park. Fiat calls these people "City Venturers", but they are not just people who think they have a cool active lifestyle. They are people who work in the city during the week and then genuinely do go off cycling, kayaking or kitesurfing at the weekend.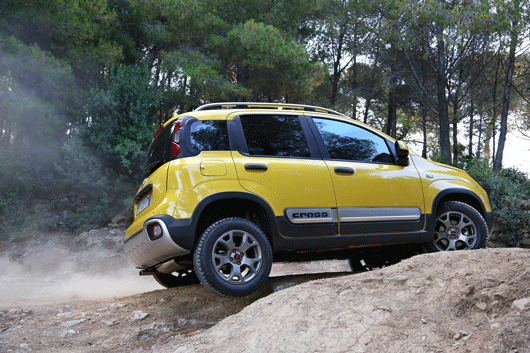 The ELD distributes torque as needed
Of course, the farmers and country vets will buy it anyway, but that's because it's capable rather than easy to park in Felpersham. The sizeable gap between the wheels and arches is a sign that this is a genuine off-roader. Fashion would dictate filling that space with 17-inch rims and painted on tyres – that would have looked better, improved fuel economy and reduced road noise – but the lack of space for the wheels to move would have made yomping over rough stuff impossible.
And it's incredibly capable, not just capable for a small car. At 370cm long and 166cm wide (excluding mirrors), it's shorter and narrower than a MINI. However, it is taller, giving more space inside – and Fiat claims the 225 litre boot is the biggest in class. There is no spare wheel which saves weight, gives you more space and means you are mullered if you hit a rock off-roading and break a rim.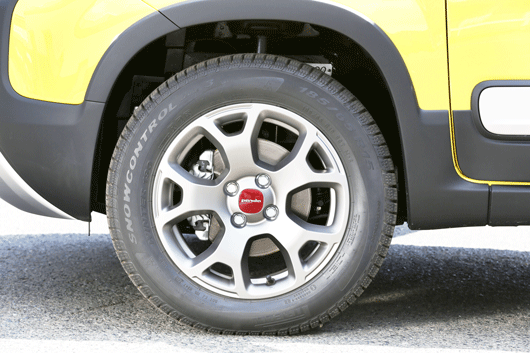 Lots of clearance means good articulations
The pug features come from pragmatically high fog lights and a huge skid plate. The combination of good ground clearance at 160mm and short overhangs enables the little Panda to climb hills with an approach angle of 24° – the exit angle 34° and the ramp angle is 21°.
By comparison, a Porsche Cayenne – which is much taller and has very much bigger wheels – has an approach angle of 27° and departure angle of 25°. This means the Panda will get down slopes the Porsche cannot. And if an incline proves a little too much, there are bright red tow hooks on the front which can be used to haul the thing up.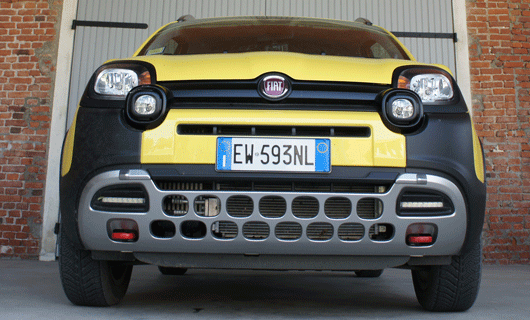 Skid plate and tow hooks are a statement of intent
Fiat has been very successful with yellow cars (there was a wonderful TV advert with a girl in a yellow dress getting into a yellow Fiat) and Fiat has chosen Sole Yellow as the launch colour. The other colours that will be available are Passione Red, Cappuccino Beige, Gelato White, Cinema Black and Toscana Green.
Unfortunately, the 14 Fiat Panda Crosses at the press event were all yellow. So while this is great for playing the "Yellow Car" game, it's not so good for imagining what it would look like in another colour. Fiat's yellow is very yellow and I can't help thinking that with so much black plastic, the red-and-black would look less in your face.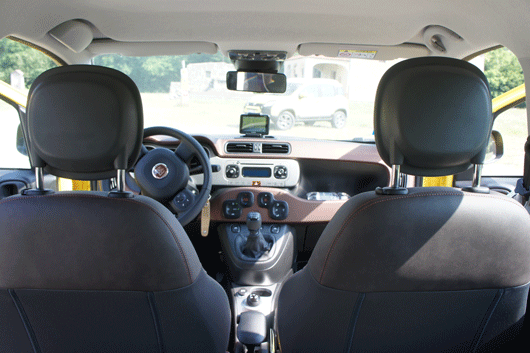 The front is a good place to be
Inside, it's more stylish than the traditional Fiat Panda 4x4 utility with faux-leather on the doors and the word "Cross" emblazoned on the seats. There is a copper tone dashboard to no doubt match the copper tone yummy mummies who form a key component of the City Venturers.